How to introduce your personal touch to your Easter table setting
How to add a personal touch to your Easter table setting
Easter Sunday lunch or dinner is an ideal time to bring family and friends together to eat great food, share fantastic company and devour way too many chocolate eggs! But there is nothing quite like sitting down to an Easter meal boasting a stunning table setting which oozes colour and a theme which celebrates your personal style.
Plantation Homes' friend and interior stylist, Liz Amaya, created three unique and jaw-dropping Easter table settings, which will ensure maximum effect with minimum effort.
Palatial pastel
For Liz's first table setting, she incorporated a suite of fun pastels, creating an opulent and glamorous table setting, fit for any morning, tea, lunch or dinner.
"I used a pastel palette and inspiration drawn from the colours on the Easter cake and added a pop of soft colour to the table," Liz said.
"The addition of pastels can brighten up any bland area. Vary bright colours like the green of the Bunnies with muted pastel shades like soft yellow and blush pink to add depth and texture to the table.
"I love the softness of pale, muted colours and since it is autumn why not use them instead of being traditional.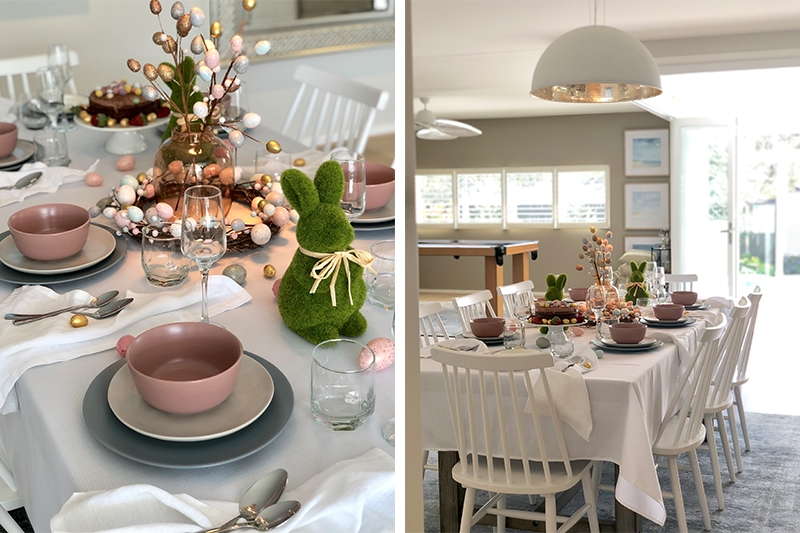 Timeless classic
Transforming your dining table to a more classical style setting is also charming way to celebrate Easter and is fit for royalty!
Liz said, "I love a neutral palette to suite the classic and contemporary style a classic table setting.
"Using simple and timeless ceramic decorative pieces through basic styling - using candles, white linen and the soft texture of baby's breathe for added textures and visual focal points."
"Neutrals are not only reliable for use in decorating, but they also play a critical role in providing visual relief, backdrops, and a calming atmosphere.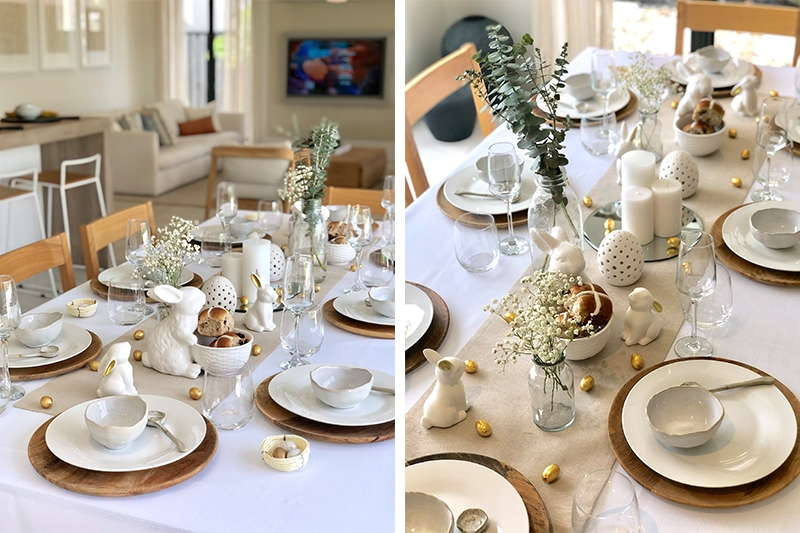 Let's go modern Australian
"Using fresh foliage of native gum and warm organic textures such a wood I wanted to bring life and a natural touch to the table" Liz said.
"For a rustic, luxe look; take a few branches of your favourite greenery from the garden like eucalyptus or gum or anything you can find in the garden really. I really love blue gum eucalyptus. Gum nuts, rustic pears and cinnamon are great for texture also. These can also be accompanied with natural fibres such as jute or sisal".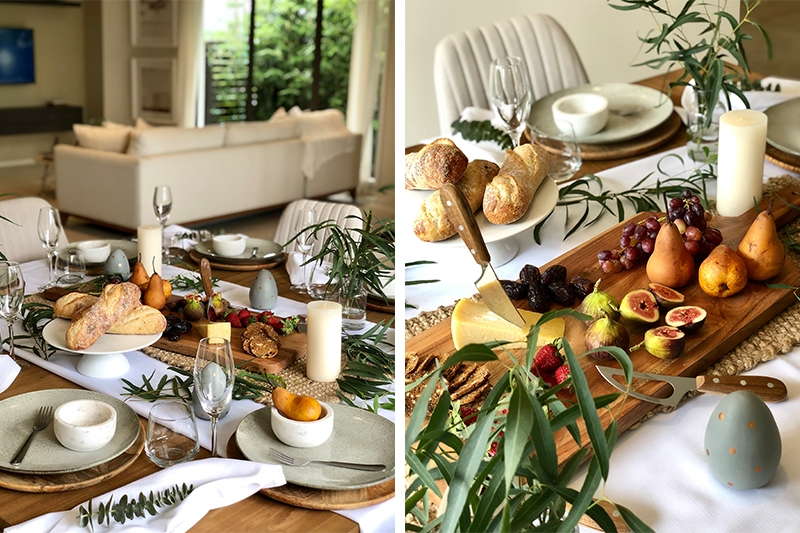 Share your Easter style
Plantation Homes would love to see some of your creative Easter table setting ideas. Please share your pictures with us at #Plantationhomes – we would love to check out your creativity!
Happy Easter everyone!