Working from Home Tips
Working from home - Plantation Homes team members shares their tips
For many, working from home is a giant leap into unknown territory. From maintaining a stringent schedule, staying connected to colleagues or simply getting the job done with minimal distractions. Not to mention the dress code!
Despite the challenges, Plantation Homes employees are really embracing their new working environment with vigour and a healthy dose of good humour! We reached out to some of them to hear their top tips on how to strike a good balance between being an effective employee, team mate and family member, whilst still accomplishing the task at hand.
Fighting fit
For Selina Chapman, Business Development Manager (House and Land), the ultimate goal for her is to come out of isolation healthy in the mind and body so she hits the ground running.
"Fitness for me is always a priority! A one-hour workout is 4 percent of your day so each Sunday, I plan my workouts for the week. That way, I have less decisions to make and eliminate laziness or excuses creeping into my day," Selina says.
"Nutrition is equally as important and again you need to plan this out. Nothing works without a plan, that is the key. Technically we have more time to take care of ourselves, think of your travel time to work as your new "workout time". It's about working smarter not harder!
"How is this helping me during times of isolation? It wakes me up, turns my mind on and I simply feel good about myself. I set myself new challenges each week, tick off each item as I complete it and motivate my peers to keep me accountable."
Mental strength
Emily Day, People and Culture Advisor, is also a big advocate for health and fitness, with an important emphasis on prioritising mental health.
"For me, maintaining connection with my team is incredibly important to my mental health. I've been making an effort to use video calling more often, share funny pictures or stories about my day and ensure I check in on others who may not find it easy to reach out if they're feeling a bit more isolated. Also, I'm trying to remind myself (and others!) to have empathy and be kind as we're all doing our best right now in a new environment."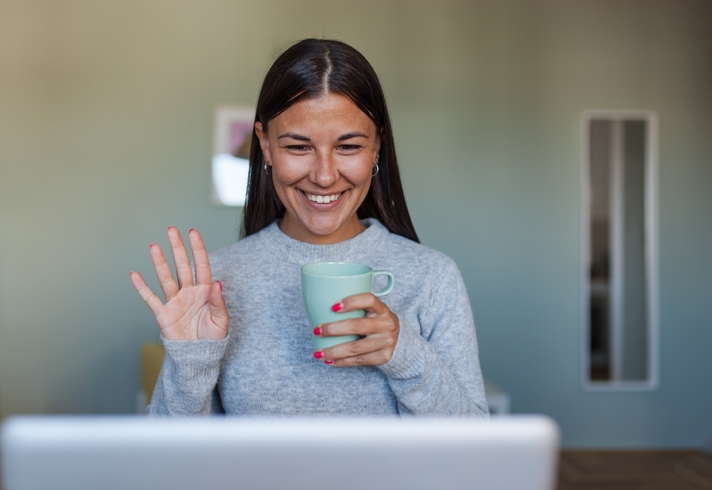 TIP: Face-time your colleagues for meeting to help you feel more connected
Pet pleasures
Working from home can have many other benefits too, like the fact you will get to spend a bit more time with your new (more furry) colleagues. Danielle Polley, Customer Service Administrator, is enjoying the fringe benefits in working from home having her four-legged friend by her side!
"Working from home can take some adjusting but having my dog as company and to be able to go on a walk during lunch break is definitely a huge positive."
Daily rituals and routines
There are three pieces of advice from Matt Emmerson, Regional Marketing Manager, when working from home.
"You need to schedule breaks in your calendar to line up with others in your household, so that you get to eat and interact with them. I would also recommend getting noise cancelling headphones to minimise any distractions, especially if you have pets, kids and neighbourhood noises".
"Finally you should start and end the day with a consistent ritual to signify the start and end of the workday, such as a morning coffee to kick-start your day and an evening walk to cap off a productive one."
Working from home and need some tunes? We have curated our very own Working from Home Spotify playlist that's free to stream. Click here!