Gold Coast Living with Plantation Homes
Gold Coast living shines through Plantation Homes
Beautiful and smart family houses continue to emerge at the Gold Coast with Queensland's number one home builder taking centre stage with its popular designs on the south coast.
Gold Coast local and new home expert, Hayley Morton, shares her insights on housing design trends hitting the region, what Gold Coast families want in their new home and which Plantation home design families are falling in love with.
Ten years of home trends

According to Hayley, the upcoming trends are moving toward a focus on ways to incorporate environmentally and economically friendly design principles into new home builds.
"Access to affordable and sustainable building practices and products has always been our priority when designing and building homes that embrace the Queensland and Gold Coast way of life," Hayley said.
"Our customers have researched ways to be more environmentally friendly in their builds including eco-friendly and low maintenance materials, as well as efficient ways to reduce bills such as solar and energy efficiency.
"At Plantation Homes, we include industry-leading design insights and innovative products as standard across all homes which saves our clients' time and money whilst achieving a sustainable home.
"As always, we see a huge focus on open plan living with the typical 'Queenslander' with coastal style free-flowing living areas that seamlessly integrate indoor/outdoor living and entertaining. This also goes hand in hand with the increased number of knock-down rebuild projects in popular existing areas on waterfront including Palm Beach, Burleigh, Broadbeach Waters, Mermaid Waters, Southport and Biggera Waters." Hayley adds.
Smaller blocks make a big impact
Hayley says, "We are seeing smaller blocks in new estates and Greenfield areas, but we are finding that customers aren't compromising on home size.
"The reason they can do this is that a lot of the new estates, for example, here in The Surrounds, we have a number of public parks within the community, a community leisure centre with pool, café, gym and community rooms for hire. The developer, Villawood, has consciously ensured that there is plenty of green space for the residents to enjoy and the beauty of this is they don't have to maintain it."
"In addition, Plantation Homes is constantly evolving the range to ensure that family expectations and requirements are exceeded. For example, the hugely popular Verona, which boasts four bedrooms, five living areas, double car garages on frontages as narrow as 10m."
Sometimes the best home designs come in smaller blocks and narrow frontages. Today's home trends smartly use space - however vast or limited they may be.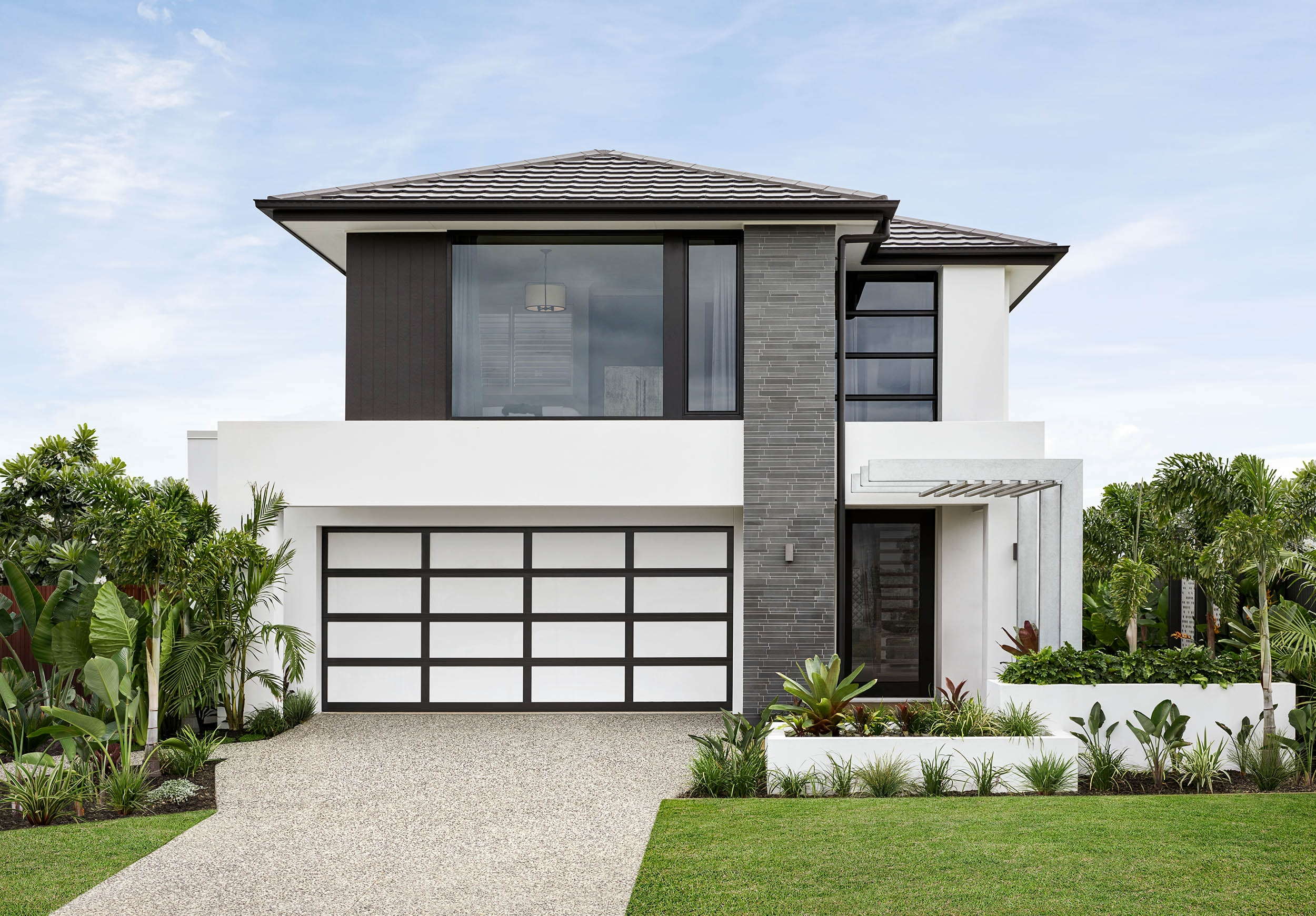 Family must haves in home design

"We have found that the main driver for our clients to build a new home is the 'Freedom to Choose' and create a home that is unique to them for an affordable price." Hayley says.
"Client's' love that each of our designs has a range of structural floorplan options, space additions and alterations available. Our clients also love having the ability to customise their new home by adding items such as ensuites to all secondary bedrooms, changing a theatre to a guest bedroom with ensuite or extending their outdoor living space to a grand alfresco.
"These are just some of the many examples of personalisation options that may be available. We also have a wide choice of layout options for our clients to 'mix and match' their dream kitchen and bathrooms. We are seeing a lot of emphasis on these spaces and particularly clients looking to upgrade their ensuites and get an 'at home day spa' feel where they are able to recharge and rejuvenate in their personal space.
"Coastal styling is ever popular with the Gold Coast locals. There is a huge focus on having luxury inclusions at an affordable price which we are able to demonstrate in our Luxury Range Display Homes at The Surrounds in Helensvale.
"We definitely would say that we are seeing an increased amount of families looking to ensure that they are keeping up with growing families and with the expectation that children will be at home longer, hence wanting to give their kids their own living areas and ensuites to bedrooms." Hayley adds.
Plantation favourite
"A home from our range that I would say showcases a typical Gold Coast would be our Bentley 43 on display at our Surrounds World of Homes," Hayley says.
The Bentley 43 (pictured) fully embraces indoor/outdoor living that is ever so important with a GC lifestyle.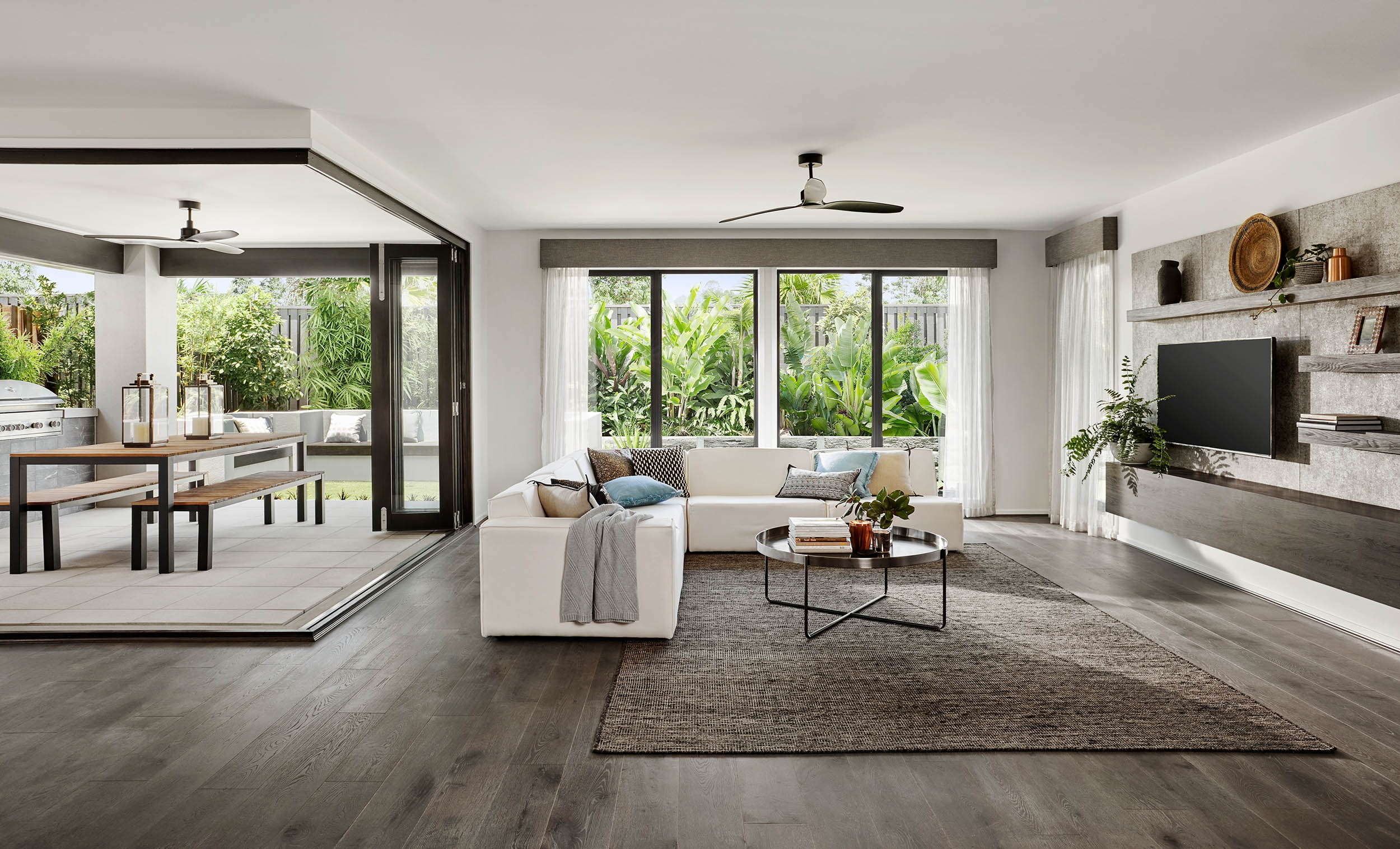 "Our Bentley 43 is unique in the way that it has a private master suite to the ground floor and all other bedrooms are on the first floor. This is perfect for all kinds of families including – downsizers or older families that perhaps are future-proofing for not having to walk upstairs to their master, families with children at home that would like their own private retreat away from the children, multiple generations living under one roof as you can create a second master upstairs, and finally having the master on the ground floor at the back to capture the views on waterfront, golf course or similar."
Plantation Homes has more homes on display than any other builder. Meet Hayley and the friendly team at The Surrounds by visiting our flagship World of Homes at 2 Clover Way, Helensvale where nine homes are currently showcased!