Our Festive Table Styling Tips
The essence of Christmas is certainly the coming together of family and friends, to share and indulge in an elaborate festive feast. This year, add an extra special touch of Queensland beauty, with a truly unique table setting that is inexpensive, yet very beautiful and memorable; even as delectable as the meal itself.
All about modern Australian
To ensure that your styling decisions are coherent and effortless, choose a particular theme for your table setting from the outset. A classic theme, which also celebrates the stunning season that is a Queensland summer, is a modern Australian table setting, complete with gum nuts, rosemary and beautiful green foliage.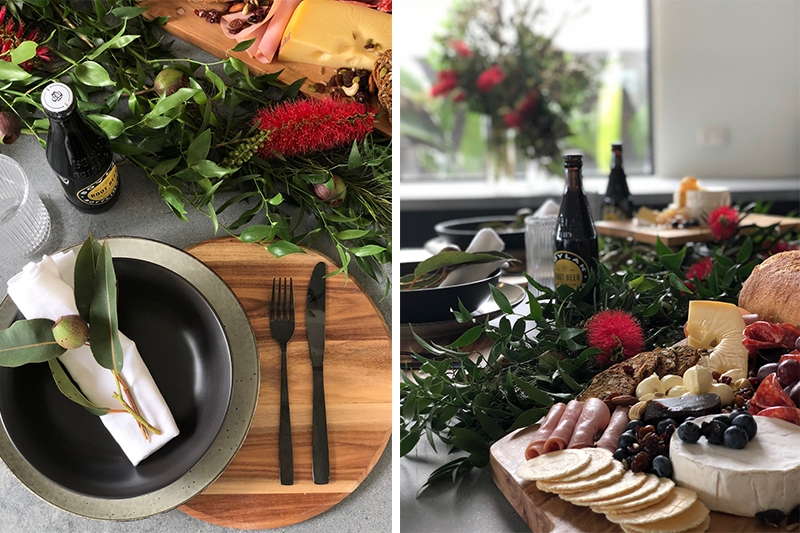 The vision of modern Australian décor is a feast for the eyes, setting the scene for informal dining with loved ones.
For the best results, pick your fresh foliage the morning of the get together, so you have the natural aromas of the foliage present at the table. This setting also allows you to bring the outside in from your own home, with most pieces for this particular centrepiece able to be picked from your front or back yard. There is no need to add a large expense to your Christmas day to achieve this look.
Getting the layered look
For those wanting to add a more dramatic effect, add a simple black table cloth beneath the setting. From here, simply layer the look with table mats, plates and bowls.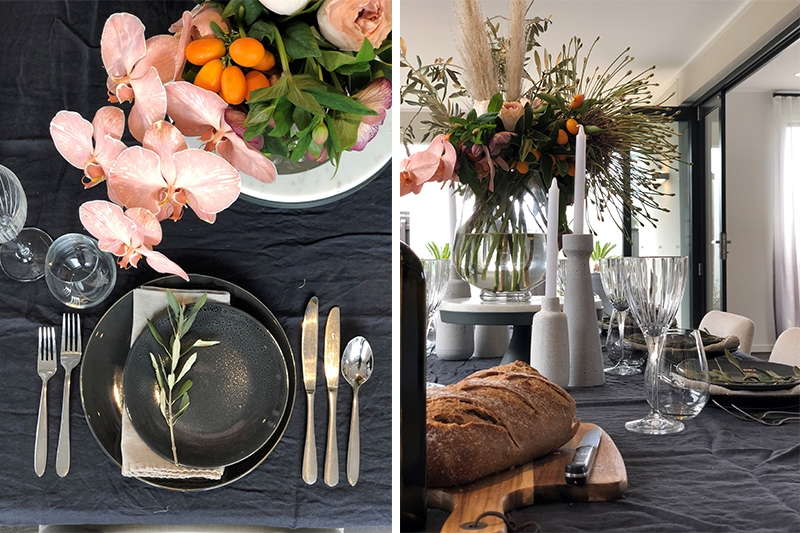 This dramatic table setting sets the tone for a high end yet relaxed Christmas meal.
Use a wooden cheese board to act as a place mat with grey and black crockery that doesn't quite match to achieve a relaxed Christmas theme. This style doesn't require high end shopping or extensive searching for unique pieces as most of the items can be purchased from major retailers.
There's always room for food
Once the table is set, the final touch is of course the food. With these simple tips, you too can present food at the table to make it look like a magazine spread.
The overarching rule for edible arrangements is to start with the larger items first and then fill in the gaps. For instance, the gaps in a classic platter can be best filled in with mixed nuts and berries. This rule can also be applied to add an extra special touch to the larger elements of any platter, such as pouring honey on a barrel of camembert and topping it with fresh blueberries.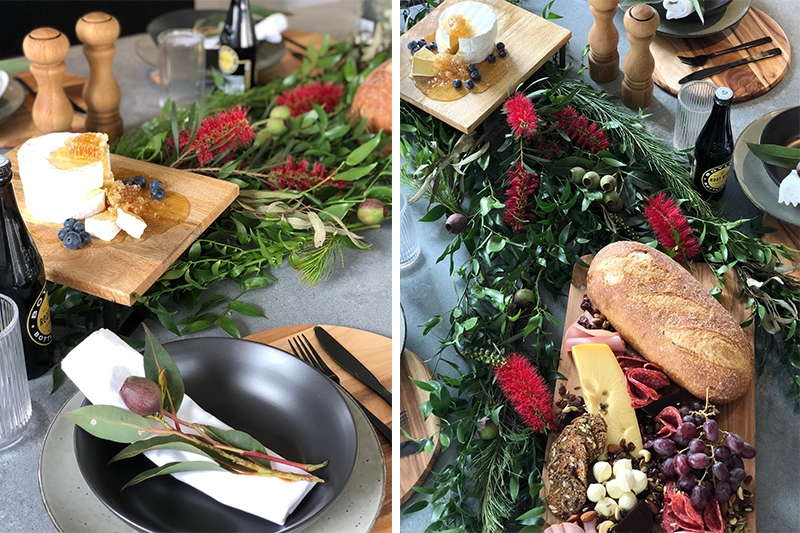 Layering a variety of fruits and nuts in the gaps of your platter will provide fullness and depth.
More table inspiration
Ideas for table setting themes are delectably endless to match your personality and style, such as a Palm Springs theme, complete with beautiful pastel pink hues and pineapples and coconuts adding excitement to the table top.
This Palm Springs table created by Abbie in our design studio is perfect for alfresco dining, drinking or nibbling. Inspired by what is on trend in the interiors/lifestyle world was drawn from mid-century modern architecture and bohemian interiors.
For both, Palm Springs seemed to be the perfect umbrella which had a lot of similarities to the Australian Christmas period. Burning hot summer days set in desolate back drops with lush green foliage that turn into balmy evenings.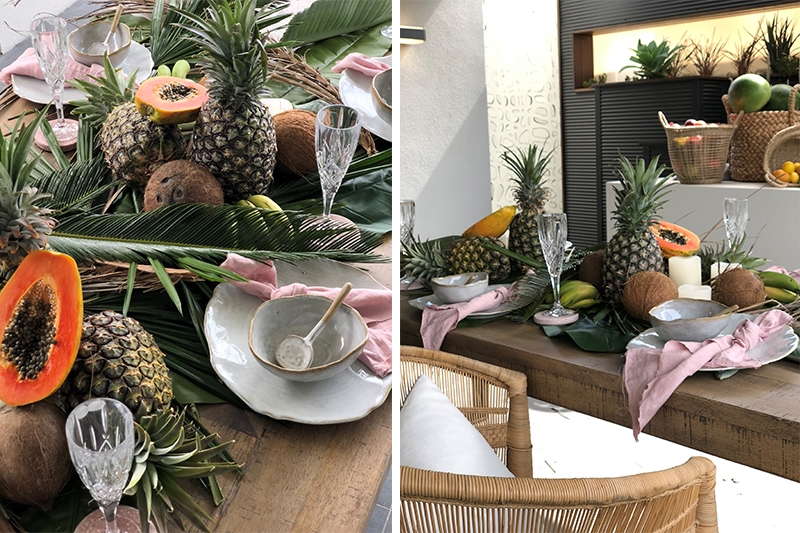 Achieve this Palm Springs inspired look through layering of colours, textures and heights, ensuring that each side of the table is adorned with the same elements.
A more formal table setting could be a Luxe Noir theme, featuring elements of black in the setting, complemented with pinks, oranges and greens to keep the setting festive and contemporary.
Starting with a luxurious washed linen tablecloth (ensure you measure the table before purchasing the tablecloth and aim to have it larger than the table to achieve this luxe look) in a dark charcoal grey/black or navy to set the tone for the more opulent dining experience.
Cassandra, who put this look together said, "Layering black on black plates on top of the dark tablecloth is a perfect back drop for the colourful Christmas food, and your family and friends will feel like they are fine dining this Christmas."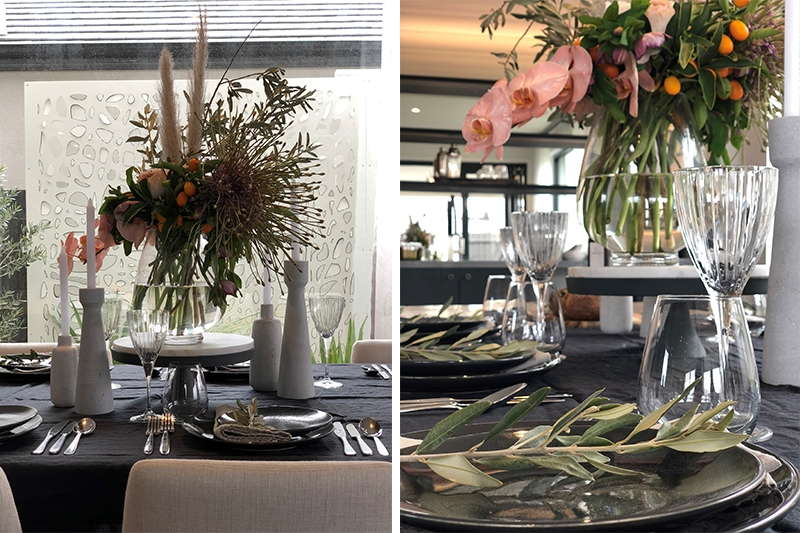 The hero of this Luxe centrepiece is certainly the bouquet of flowers, adding a beautiful pop of colour against the moody table setting.