Principles of a modern kitchen design explained
As the one of the busiest areas in the family home, a considered and well-thought-out modern kitchen design with a highly purposeful function should be a priority.
In this article, we'll go through the key elements of a dream kitchen design, which will not only look aesthetically pleasing but also elevates the functionality of the space for all family members.
Lots of storage
Having plenty of storage, while maintaining a smooth and stylish aesthetic is a must for a modern kitchen. Whether it is storage for pots, pans or the suite of must-have gadgets, ample storage can never be compromised. To optimise on a stylish and timeless aesthetic, benches and cupboards can be handle and knob free ensuing a sleek, sophisticated feel.
Storage design has also evolved with open shelves being used as a showpiece for treasured display items or cookbooks, or closed storage to neatly stow away crockery and glassware. Whatever the function you desire, storage can be personalised to suit all tastes.
When it comes to drawers, the deeper they are, the better. There is more of a demand for large and sturdy pot drawers to hold all types of crockery as it makes them easier to access all at once.
Kitchen bench ideas
A generous island bench is the central hub for where family members naturally gravitate to.
The grand island bench is the glue that allows for connectedness – entertaining, homework and cooking can all happen at the same time giving the kitchen its name as the heart of the home. Oversized island benches also boast generous counter-top space and plenty of storage underneath.
When positioning the major appliances such as the oven, cooktop and fridge, it important to maintain the flow to maximise the ergonomics of the space. The fridge should be positioned close to a bench so when you are pulling out ingredients for food preparation, it is done seamlessly and swiftly. Be also mindful on the side of the door hinge opens. The door should be hinged on the side where the produce can be accessed with ease when the door is open.
Ample bench space is also important for those other necessities for ease of access and use including microwave and coffee machine.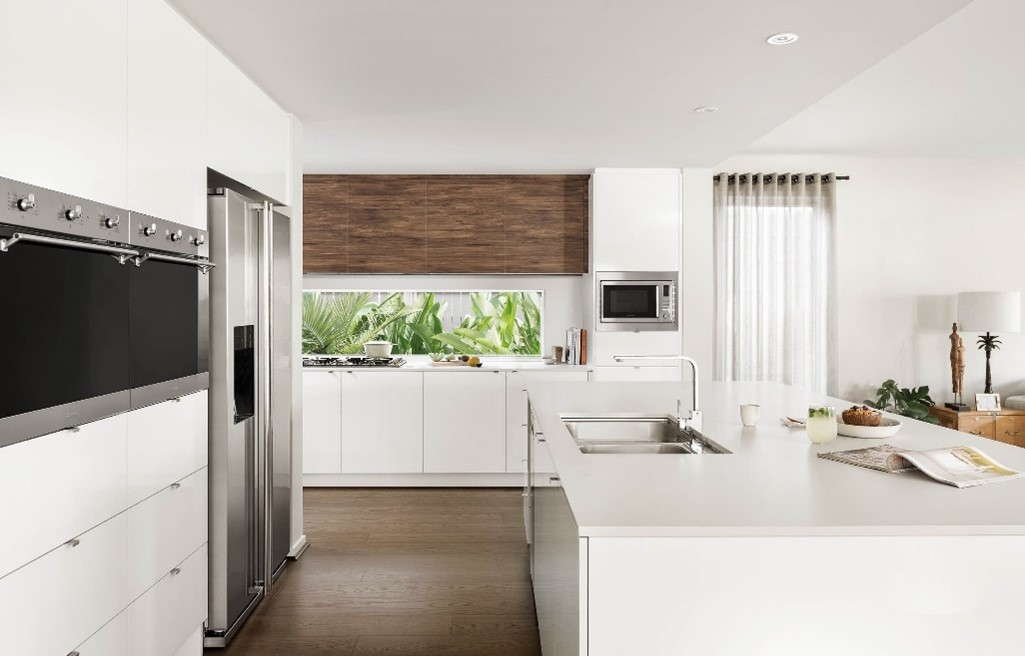 Butler's Pantry ideas
While the main kitchen is the home's showpiece, the butler's pantry is the kitchen-within-the-kitchen.
A butler's pantry allows you to entertain family and friends without the mess or clutter that comes with a gathering of any kind. Even on a daily basis, it provides for order and extra room for all your favourite smaller mod-cons. The butler's pantry can also be upgraded to include a second sink and set of major appliances, such as a dishwasher, fridge or microwave to optimise functionality in this preparation space.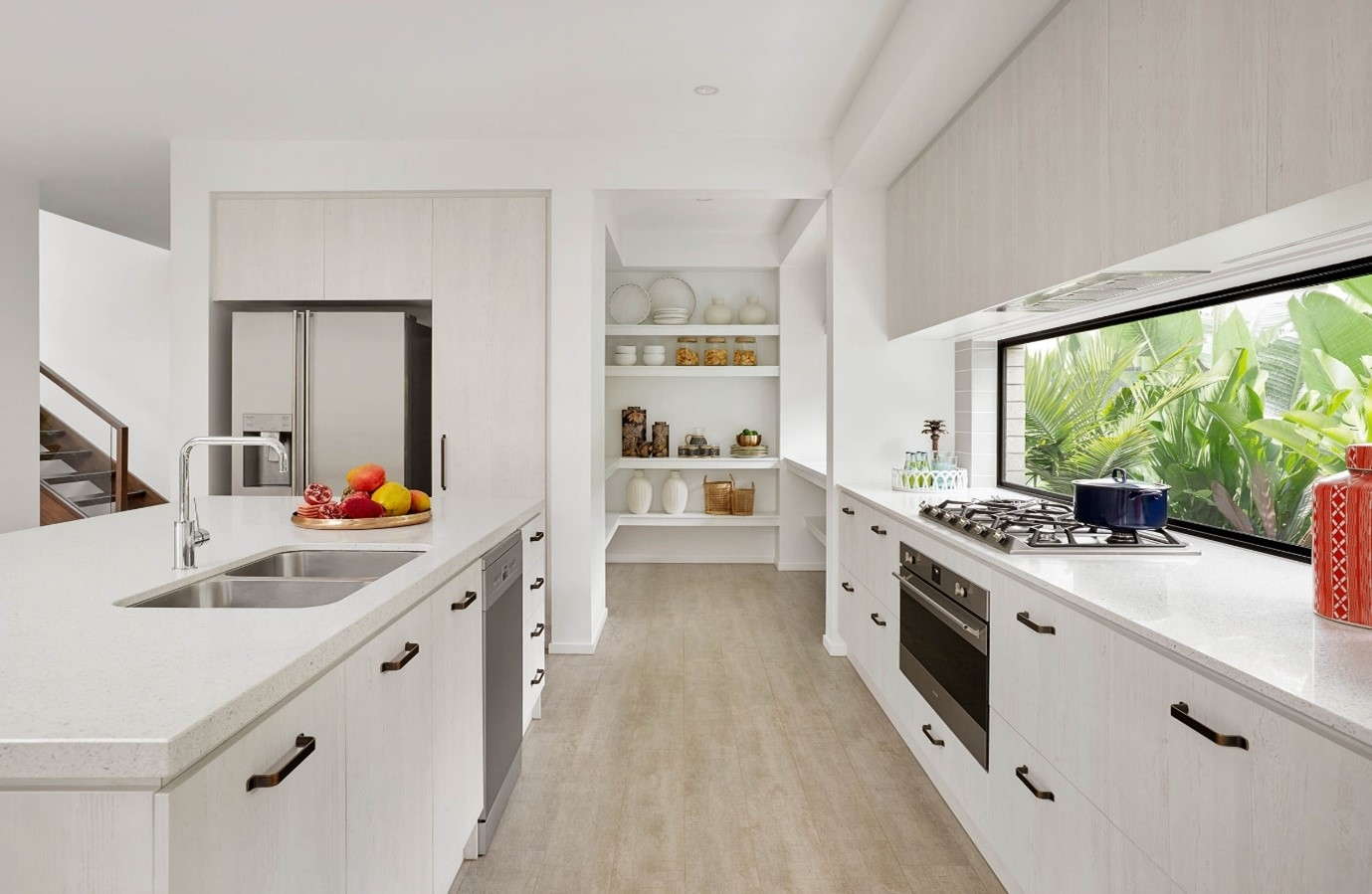 Lighting in the kitchen
There is a myriad of lighting fixtures that can be used in kitchens that is pivotal to a great modern kitchen design. From recessed, ceiling, track, pendant and under cabinet. With the use of these types of fixtures, you can provide lighting where it is needed most.
Modern Kitchen Island Lighting – These fixtures add a lot of style to a room and also provide general and task lighting. The designs are almost endless for this type of fixture and they are great for over kitchen islands, open counters and sometimes dining tables.
Track Lighting – This type of fixture has a lot of uses. The individual bulbs can be moved and pointed in different directions to get the desired effect. The heads can also be moved and adjusted when needed. The tracks can be flush to the ceiling, hanging down and be straight or curved. There are a lot of different track heads and even pendants that hang down from the track. They are great for accent, general purpose and task lighting.
Under Cabinet and Puck Lights – Puck lights can easily be installed to the undermount of overheads to cast light on the kitchen splashback and highlight your countertop. They come in many styles and serve as task and accent lighting. Puck lights are small round lights that are often installed in cabinets that have glass doors to highlight attractive items in the kitchen cabinet design. They can be either flush mounted or cut into the cabinet top for a recessed look.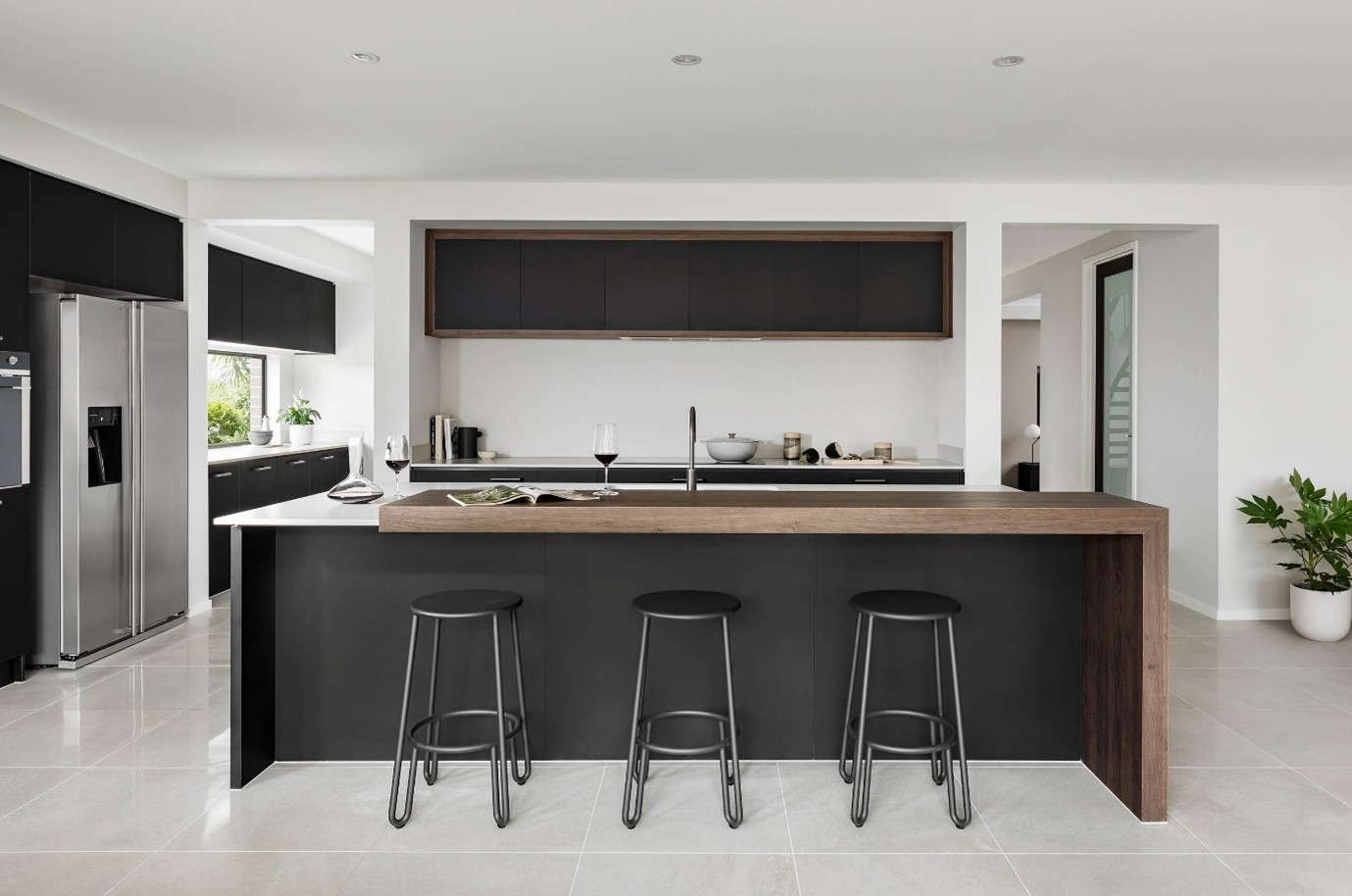 Cooking considerations
Good Kitchen planning would not be complete without the kitchen quartet - the rangehood, splashbacks, oven and cooktop.
These four features are also important to take into consideration when designing your perfect kitchen. The key to an efficient cooking epicentre is to have plenty of bench space for preparation as well as being able to access your kitchen features with ease and safety.
Creating a sound and measured kitchen design will allow you and your family to reap the benefits, and maximise its use all day, every day.