Higher Standards, Higher Ceilings
Reach for the heights
High ceilings, in a family home, creates a feeling of space, opulence and grandeur. There is an unmistakable impression of expansiveness in a room with high ceilings, especially when you look out to the trifecta of open spaces – the dining, living and kitchen areas.
To save costs, other builders may decide to sacrifice ceiling heights, but with Plantation Homes, the standard luxury inclusion for ceiling heights is 2570mm in Luxury homes (2440 within our Essence range), setting the scene for Queensland family homes to be well thought out and considered. Going beyond the standard ceiling height for Australia (2400mm), here are four (4) ways higher ceilings set higher standards for your home.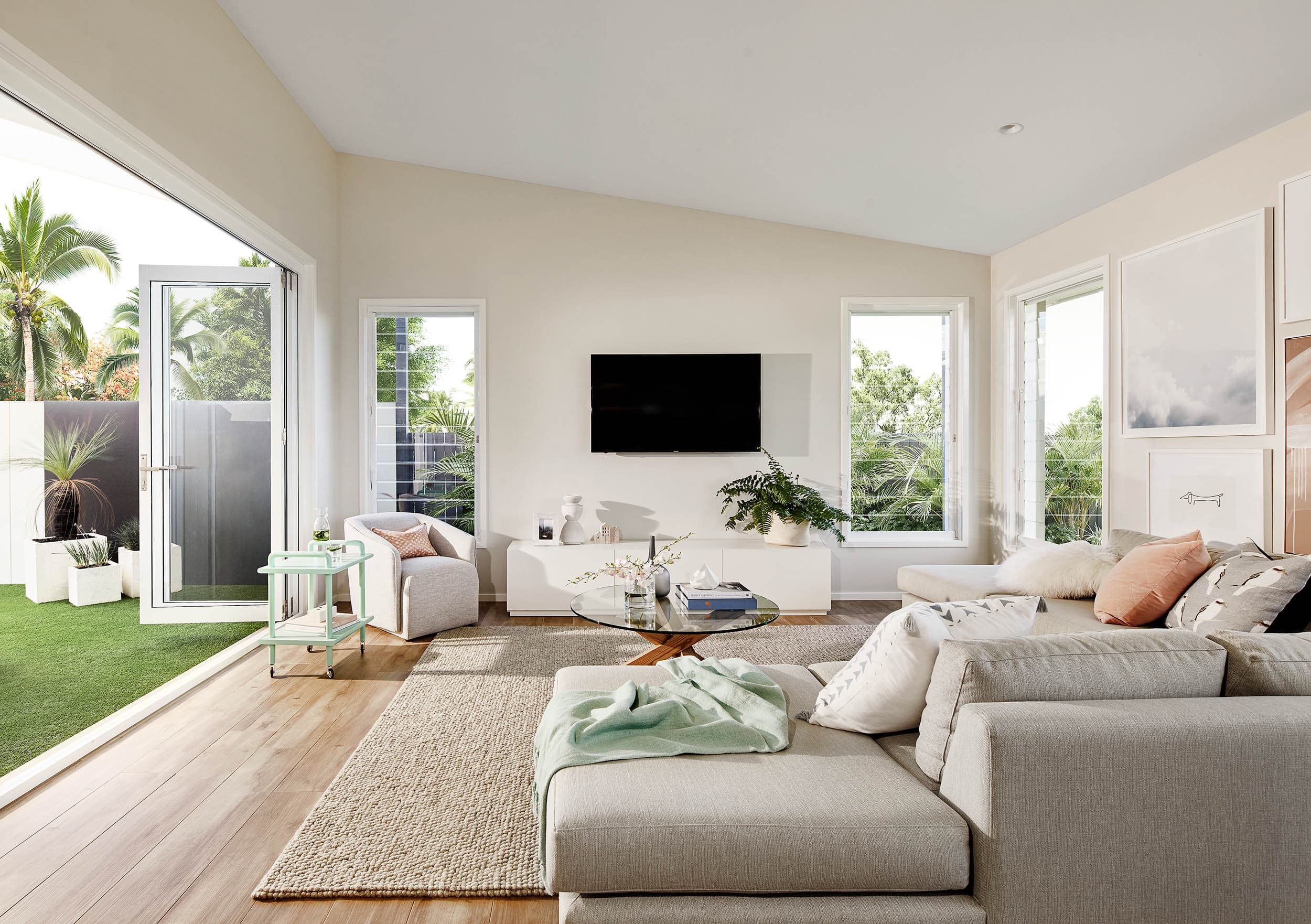 Proportion and balance
Jeff Bugeja, National Design Manager, says that proportion in a room is very important and to have a ceiling at 2570mm creates a perfect balance and equilibrium to room size especially when taking furniture into account.
"While standard ceiling heights are governed by stud heights and plasterboard lengths, it is important to think about the ceiling heights and what feeling you want to achieve when you enter that space."
"The Sahara 43, currently displayed at Harmony in Palmview, is a perfect example in how a room transcends to another level of opulence with a high ceiling or void. As well as the towering void which reaches the 2nd storey ceiling, there are sensational coffered ceilings in the entryway creates a luscious sense of style and sophistication, adding light and a beautiful sense of airiness. The leisure room on the first floor has a stunning view of the living room through the void, a rare feature to be enjoyed. This option in the Sahara is true nod to the Hamptons styling and architecture, elevating its opulence through the roof!"
Temperature control
If you have chosen a two-storey design, while you want bedrooms to be cosy, you still want to have that grandiose and airy feel to them.
"That is why, at Plantation Homes, we have handpicked 2570mm as our standard ceiling height within our Luxury range, and befitting choice for the most astute homebuilders. It is also great to provide the opportunity for customers to invest in higher ceilings such as 2570mm or 2720mm if they wish to. However this all depends on the maximum building heights of the various estates.
"With higher ceilings, your house tends to stay cooler as heat rises, maintaining a more consistent temperature on floor level. This is especially important in tropical climates like here in sunny Queensland. The beauty of Plantation Homes is that they are designed to make the most of air flow through the home, especially with the great care we give in placing well-ventilated windows throughout the home." Jeff adds.
Raked ceiling trend
Raked ceilings are becoming increasingly popular in home designs with its beautifully inclined angular ceiling providing additional height than a standard ceiling. The Panama 28 on display at Rochedale showcases a stunning raked ceilings celebrating its industrial chic decor and the Hamilton 22 on display at the same World of Homes location also features a statement raked ceiling, this time complemented with coastal interior scheme that's really at home in its lush surrounds.