Colorbond vs Tile roof
Roofs are functional as they are decorative. Acting as the shield of your home, roofing protects your home from Australia's fickle weather and unpredictable harsh elements. This makes choosing the right roofing material extremely important — is it going to be Colorbond (steel) or tile?
In this article, we'll take you through the pros and cons of each to help you decide which one suits your home (and budget) best.
Colorbond Roofing
A popular choice for modern homes, Colorbond roofing is made of corrugated metal (steel). It's lightweight and crisp-looking — providing excellent curb appeal that creates a sleek and modern look for any home. You can even choose from 22 colours that suit your home's overall style and colour palette!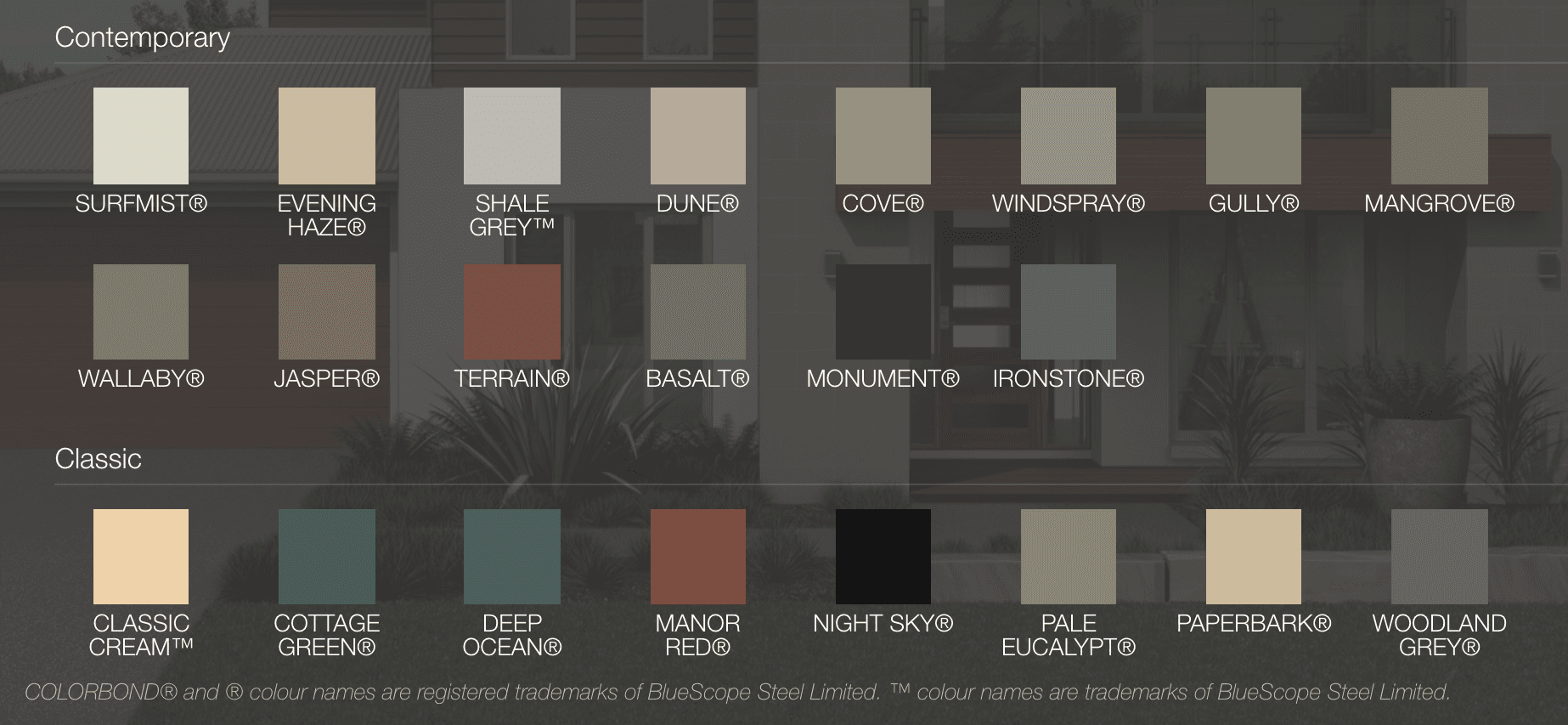 The Pros
Durability and longevity
The Colorbond material is made from steel that has undergone rigorous testing to survive the highs and lows of Australian weather. Tested against corrosion and outdoor exposure, it adheres to Australian Standards (AS1397 and AS/NZS 2728) and can last up to 70 years.
The Colorbond material has undergone rigorous testing to survive the highs and lows of Australian weather. Backed with the right technology, it can survive corrosion, outdoor exposure, and adjacent fire (they are compliant for use in bushfire zones).
Thermal-efficiency and insulation
The color in Colorbond matters — five light colours qualify as solar-reflective (under the Green Star Communities Tool) and all colours (except Night Sky) have solar reflectance technology. This provides great thermal insulation that keeps the temperature comfortable inside the home. Coupled with passive heating and cooling principles, Colorbond carries great potential to save up on electricity bills in the long term.
Low maintenance
The smooth coating in Colorbond makes cleaning easy. All you need is clean and fresh water to go through areas that can't be reached by rainwater. The best part is you only need to do this every six months!
Environmentally friendly
Metal roofing is 100% recyclable and one of the most reused products. It doesn't always need reprocessing before being reused which can reduce energy use. Its easy transport can also lessen resource use and on-site waste.
The Cons
Noise
Raindrops on a metal roof can be quite loud but it can be minimised with insulation . Most people find the sound quite soothing.
Post-build installation
If you need to install an air conditioner, solar panels or anything else on the roof after your build, parts of your roof may need to be cut.
Tile Roofing
If you're going for the quintessential Australian look, tile roofs are a no-brainer. Commonly terracotta or concrete tiles, tile roofing is durable, soundproof, and energy-efficient. Plantation Homes offer concrete tiles and a choice of 10 colours.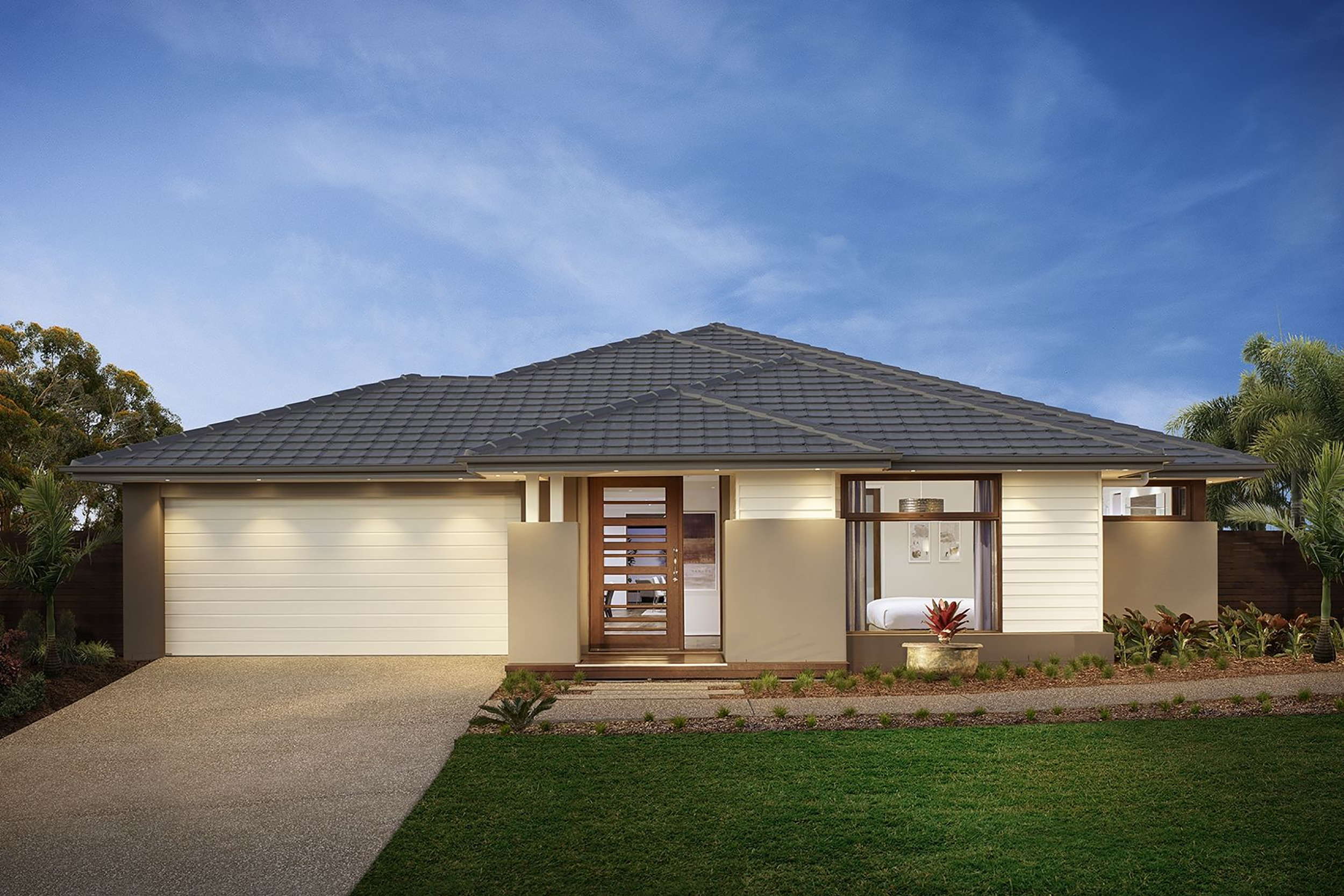 The Pros
Durability and longevity
Made from heavy and sturdy materials, tile roofing can withstand harsh weather conditions. They are also impervious to rust, rot, and insect damage, and can last up to 100 years with regular upkeep and repairs.
Soundproofing
The density and thickness of tile roofing allow for great sound insulation and acoustic performance. Say hello to peaceful rainy days!
Thermal-efficiency and insulation
Tile roofs have a heavy thermal mass which means it can store energy in the form of heat! This can help regulate indoor temperatures — helping you save on electricity bills.
Environmentally friendly
Tiles are derived from earth materials and can be recycled after their use or lifecycle.
The Cons
Regular inspections
Tiles are durable but can break with impact from heavy items falling or being walked on. Harsh weather conditions can also cause shifts in the tiles and mortar that can lead to leaks. An inspection can be as simple as climbing a ladder and looking for gaps. For this reason, tile roofing requires more maintenance than a Colorbond roof and possible repairs many years down the track.
If you are building with Plantaiton homes you will get the choice of tiled or Colorbond roofing at no extra cost. Ultimately, the choice between a tile or Colorbond roof is personal and you need to choose a material that you are comfortable with, looks good on your chosen house and façade, and most of all - you will enjoy looking at for years to come.