5 Most Popular Home Facades
It's no secret that a chic home façade delivers a valuable first impression and sets the scene to what the rest of your home is like inside. A façade which showcases light and bright hues, certainly creates a freshness that works beautifully, especially in Queensland.
Plantation Homes is meticulous when it comes to handpicking the perfect colour and texture combinations for their house design façades. One thing is for certain, colour plays an integral role in the façade creation and it continues to grow in popularity with Queenslanders. A home façade needs to be timeless and elegant, working well with the rest of the front outlook including the garden and driveway.
Plantation Homes explores the suite of popular façade options available and provides the expert tips and tricks in how to choose the ideal façade for your family home.
The Broadway Facade
Looking at Plantation Homes' most popular, the Broadway facade shows how the family home can echo style and opulence. The clever use of textures on a home's exterior can elevate the look, giving the façade a brightness that complement the garden beautifully, with its shades of greenery and Colorbond™ roof and garage door. The holiday vibe also sings loud and proud with a modern façade.
The understated simplicity of the Broadway façade has been revealed as the number one choice for Queenslanders. Plantation Design Studio Manager, Di Gaffney said "The Broadway façade works best when done with a perfect balance of crisp white vertical panelling, peppered light grey brickwork that makes a beautiful statement when approaching the entrance patio".
Whether it is weatherboards, brick or textured panelling, your façade is a perfect canvas to add a sprinkling of colour to the rest of the home. It may be a front door with glass and statement colour or a textured balcony - creating an inviting coastal feel to your home.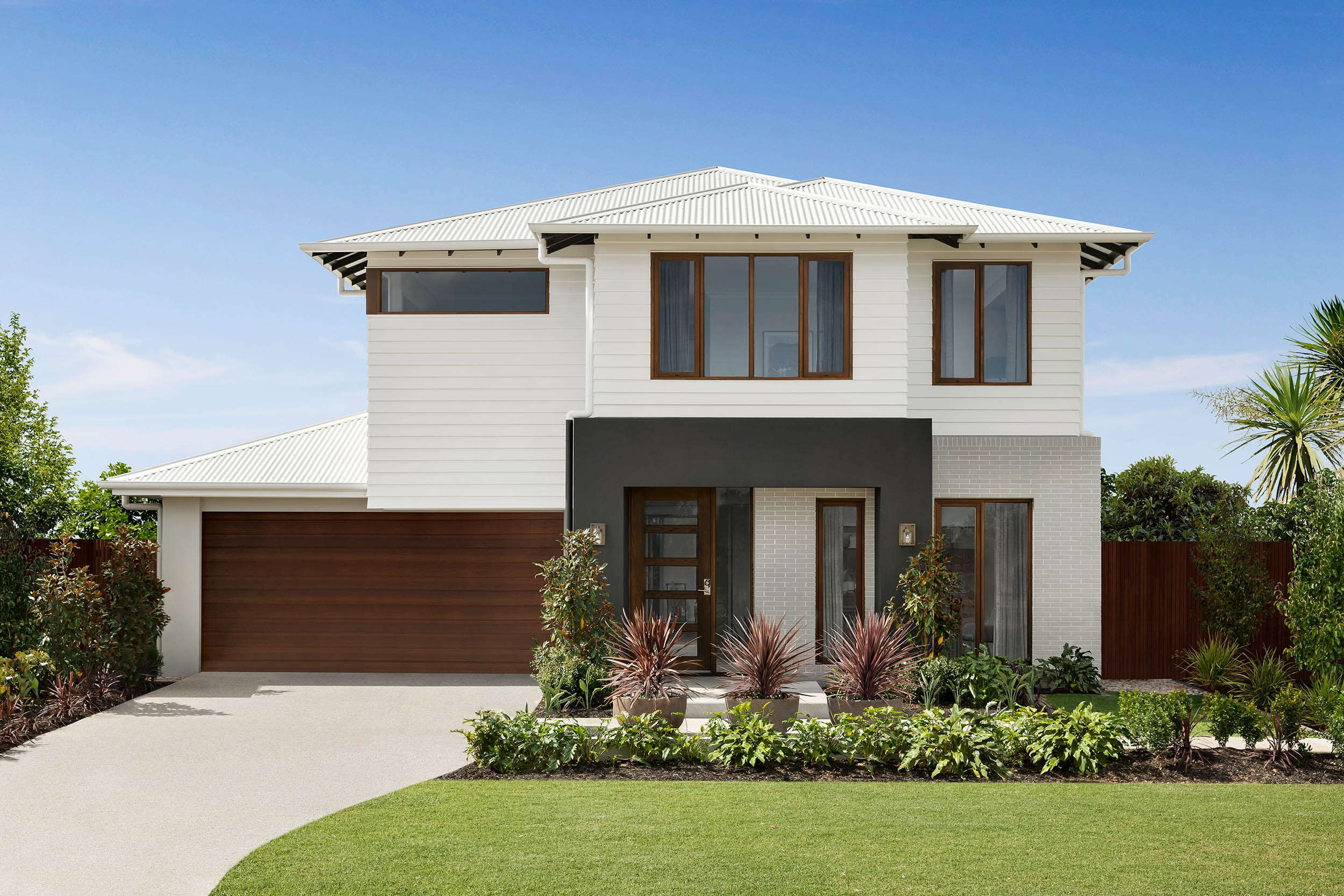 The Sahara with Broadway facade as displayed at Rochedale World of Homes
The Zara Facade
The Zara, Plantation Homes' second most popular façade choice is not only great value, but also exudes a welcoming freshness. "Sophisticated and clean, the Zara works best paired with neutral tones of whites and light greys. This really sets off the garden and glass featured in the windows and front door", said Di.
The Ridge Facade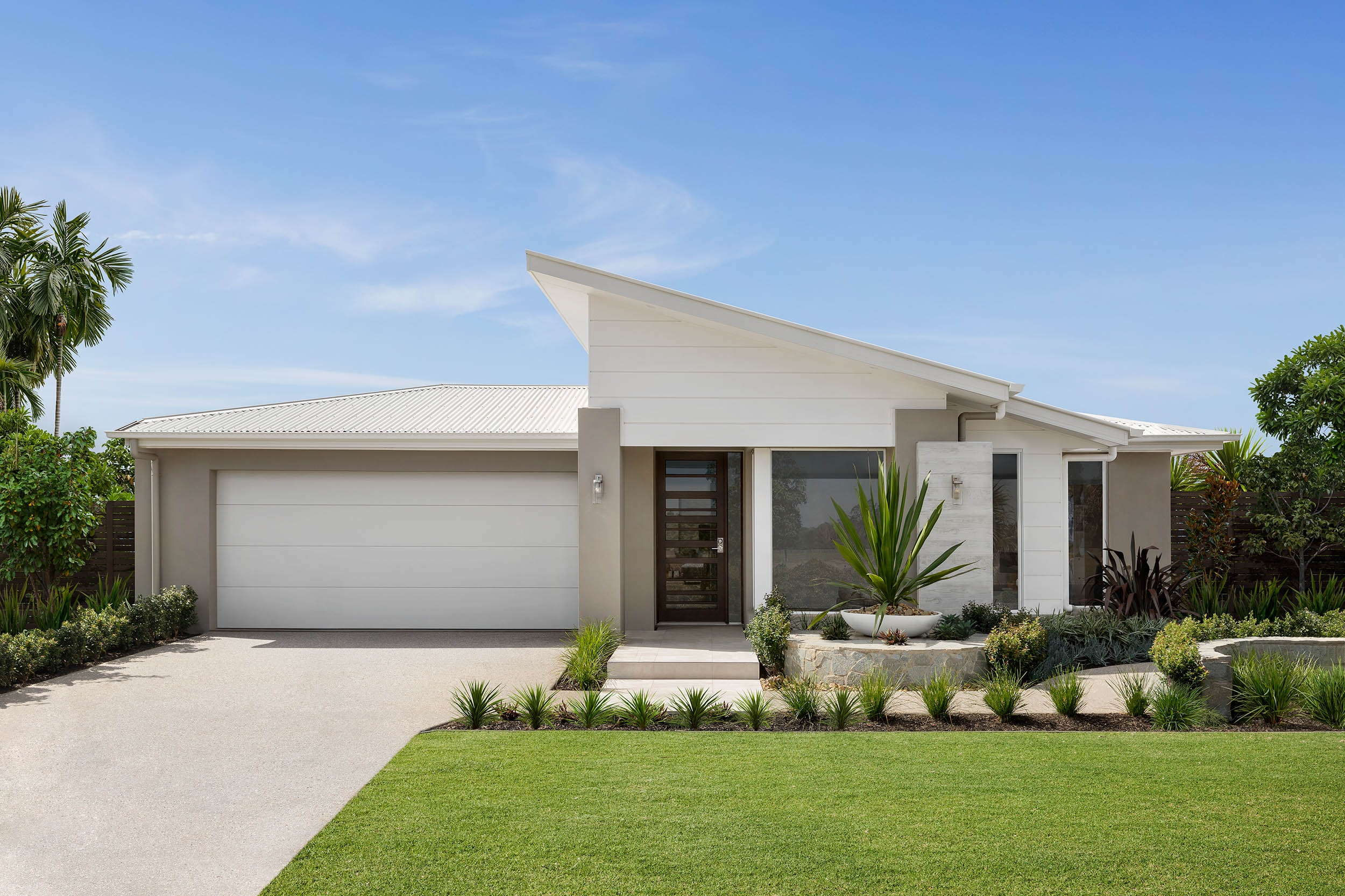 As showcased at Plantation Homes Springfield Rise, the Ridge façade as seen on the European design has proven the third most popular façade choice for Queensland. Colours play an important role in your façade selection. A façade dominated with white exudes a sophisticated and timeless elegance, adding to that much important curb appeal. Colours not only elevate your house in the opulence stakes, it also has an important practical role in helping keep internal temperatures inside on the downside – perfect for the Queensland climate. Di said "The Ridge façade has a strikingly modern skillion roofline that adds a fresh aesthetic appeal, with its contrasted creamy whites with richer grey tones to add that extra flair".
Hamptons-style Facades (Eastport and Portsea)
A design trend that has no signs of abating, is Hamptons. Rounding out Plantation Homes' top five façade options, the Eastport and Portsea facades have proven as popular as ever with Queensland buyers looking to emulate the sophisticated and effortless American style.
The stunning and ever-popular Eastport façade seen in the Trinity 40 on display at Springfield Rise World of Homes, celebrates all-thing Hamptons – with a freshness and sophistication which is incomparable. Single storey homes such as the Hamilton 24 sings a sweet song with the Eastport façade, showcasing a lovely mix of whites and creams that also invoke a stunningly modern Southampton vibe.
Hamilton with Eastport façade, on display now at Rochedale World of Homes.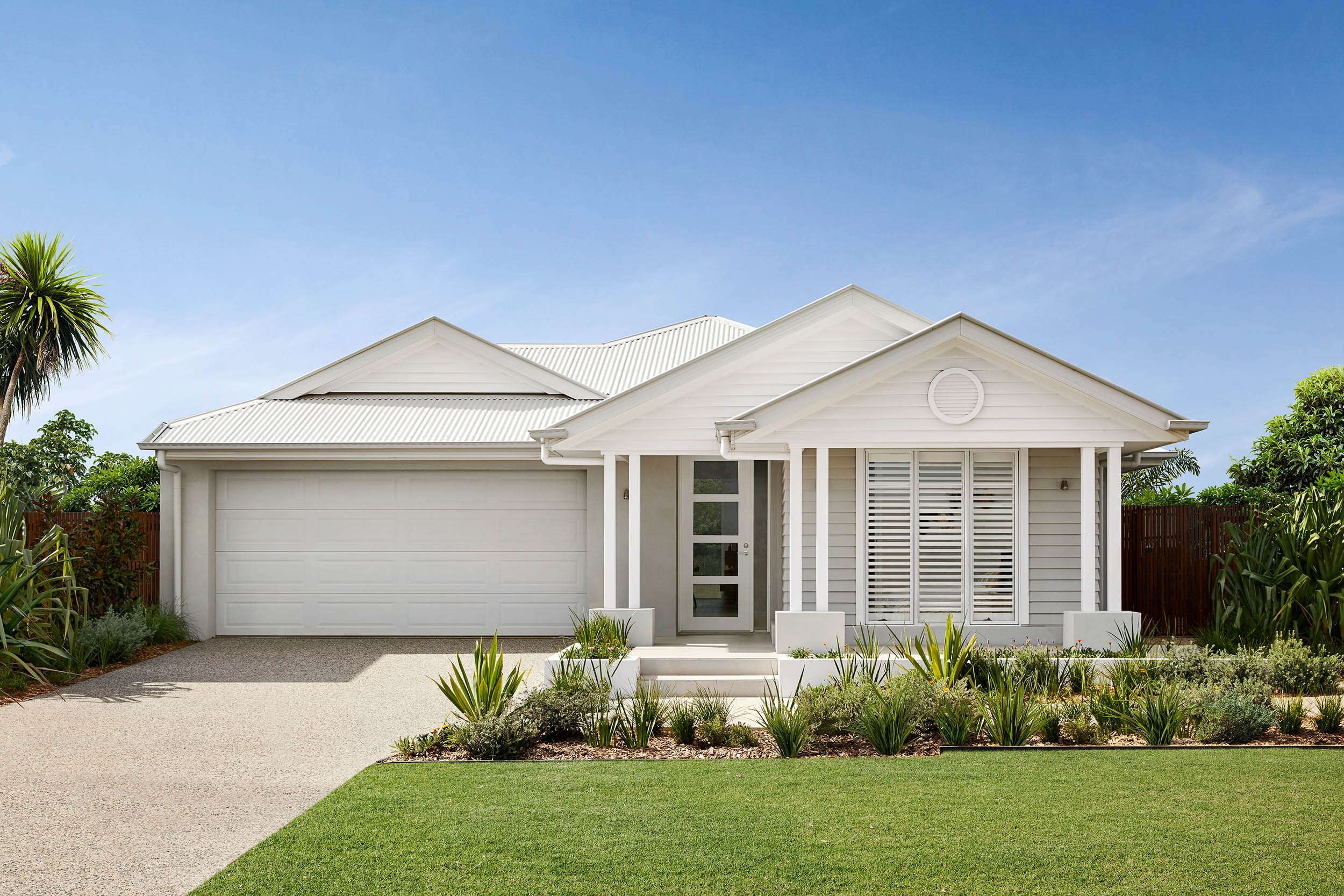 Hamilton with Easport facade on display now at Rochedale World of Homes
Choosing a façade that's right for you
When deciding on the ideal façade façade for your home, think about the maintenance needed for each texture and what budget you are comfortable to invest in.
Di advised, "Using the right mixture of textures or colours on your façade is also key." The magic number is three. Some newer estates will have covenant requirements, but where possible, it's always good to try and limit to three or four different materials (brick, render and timber cladding) or three different colours (light main render, dark feature render and timber stain)".
A well-balanced home design will use the same colour on many finishes such as garage and window to cohesively colour match. Front door and timber cladding stain would be a great duo to match and feature tile and garage could match in colour tone.
At Plantation Homes, you can consult your New Home Consultant at your local display who will talk you through your façade wish list and possibilities. Visit World of Homes as there are several homes, single and double storey showcased to be inspired by and find the façade that is right for you.