Mothers Day at Home with Plantation
Whether your mum lives at home with you or afar, making Mother's Day memorable, especially this year during these challenging times, is so important. With Mother's Day just around the corner, there are a suite of creative and touching ways to make your mum feel extra special. Plantation Homes shows you how!
Spoil your mum at home
If mum is with you at home, surprise (and delight) her with a sumptuous breakfast in bed, complete with a newspaper, or her much-loved magazine. You could create some of her breakfast favourites, hotel-style bircher muesli or homemade croissants (you know you can make them and now you have the time to do it!)
Perhaps a Netflix binge sounds like the perfect way to relax, here you will find a list of the best Mother's Day Movies so you can chill with Netflix with mum and the family.
After her long and lazy breakfast, a pampering bathroom session would also do the trick. Part of your mum's present could be a cosy, luxurious robe with matching slippers. Hot bubble bath, candles and oils, completes the picture. And don't forget a glass of bubbles!
At your doorstep
As we spend more time at home, why not use this opportunity to support local businesses who are reinventing themselves to service at home needs? Whether it is having a High Tea at Home by The Wandering Italian, complete with delicious sandwiches and pastries or getting your crafty juices going with DIY pottery kits by Crockd, mum will be tickled pink with such creative ideas to dive into.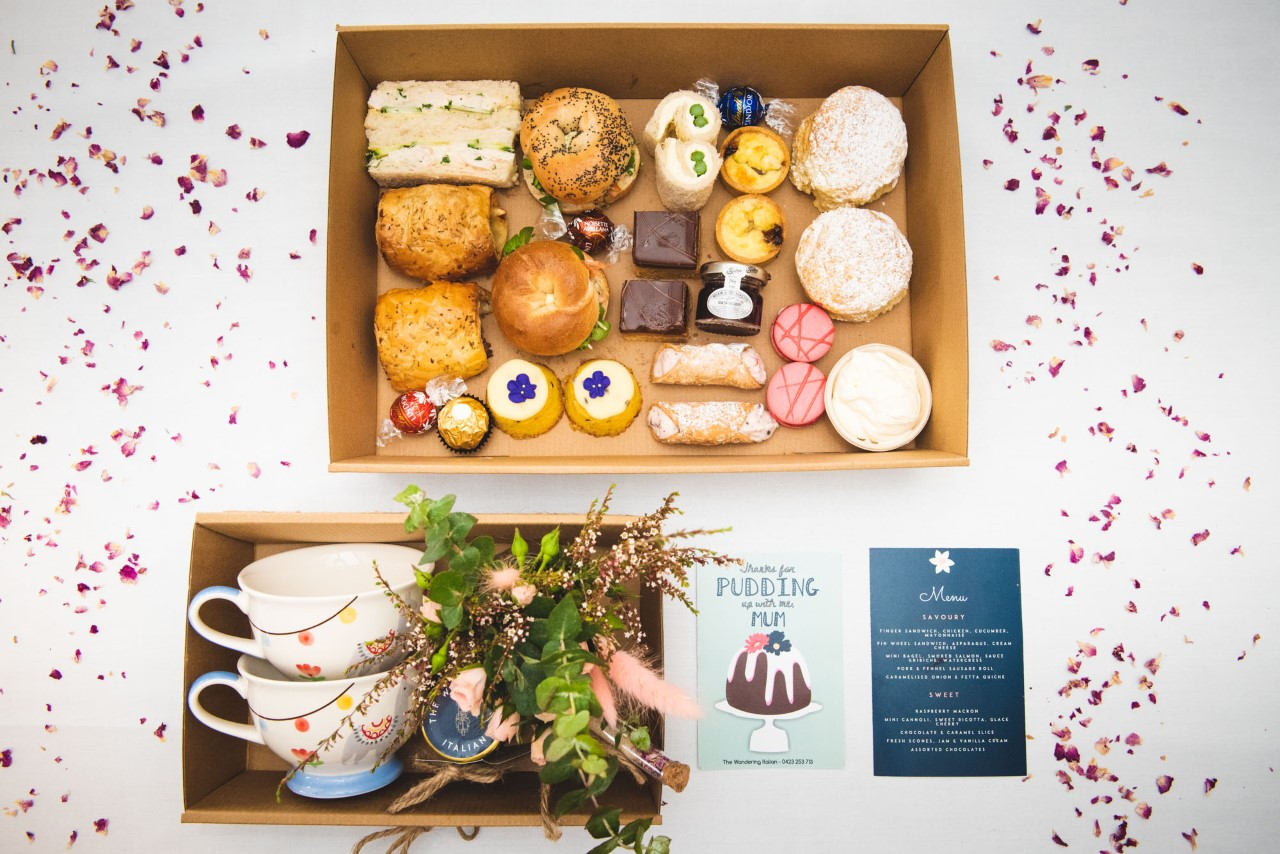 The Wandering Italian has created limited edition High tea at Home sets, perfect for mum
Blooming lovely
Nothing says 'I love you' more than a big bunch of fresh and colourful flowers! Fragrant and beautiful, flowers will certainly brighten up your mum's day. We love this cost-effective idea via Pinterest, simply pick a bunch of your mum's favourites from the garden and wrap them in some paper and affix a homemade swing tag to give it a real personalised feel.
Stay connected
If you are celebrating a remote Mother's Day this year, why not try ZOOM or Skype to bring in as many loved ones into the conversation? You could even all agree to dress up fancy hats or even wear mums favourite colour. It is guaranteed to be loud and raucous, but your mum will love every minute of it!
For some mums who don't have the technology, it may be as simple as picking up the phone to check in, making sure that she is okay and send your love. Taking the time for a 30-minute chat may be the highlight of her day, especially during these challenging times. If you are super organised, curate a hand-written letter on some beautiful paper or card and pop it in the mail. There is always a bit of excitement when you find something special in your letterbox other than utility bills!
Get your boogie with it
To really get in the spirit, Plantation Homes has created the ultimate music playlist for the occasion. The Mother's Day At Home Mix features a bit of Michael Buble, a touch of Lady Gaga and of course, a sprinkling of Billy Joel. Perfect for that bathroom pampering session. You can stream using your Spotify account here.
Mother's Day is on us!
Congratulations to K. Puzaras from Murrumba Downs who won our Mother's Day giveaway which included $300 worth of goodies including a High Tea at Home from our good friends at The Wandering Italian, plus, a luxurious Plantation Homes gift pack, all delivered right to her mums door.
To celebrate Mother's Day we wanted to take you to the Hamptons with an exclusive tour of our Hamptons-inspired Colorado design that you can check out here!
To all the mums out there, Happy Mother's Day from Plantation Homes!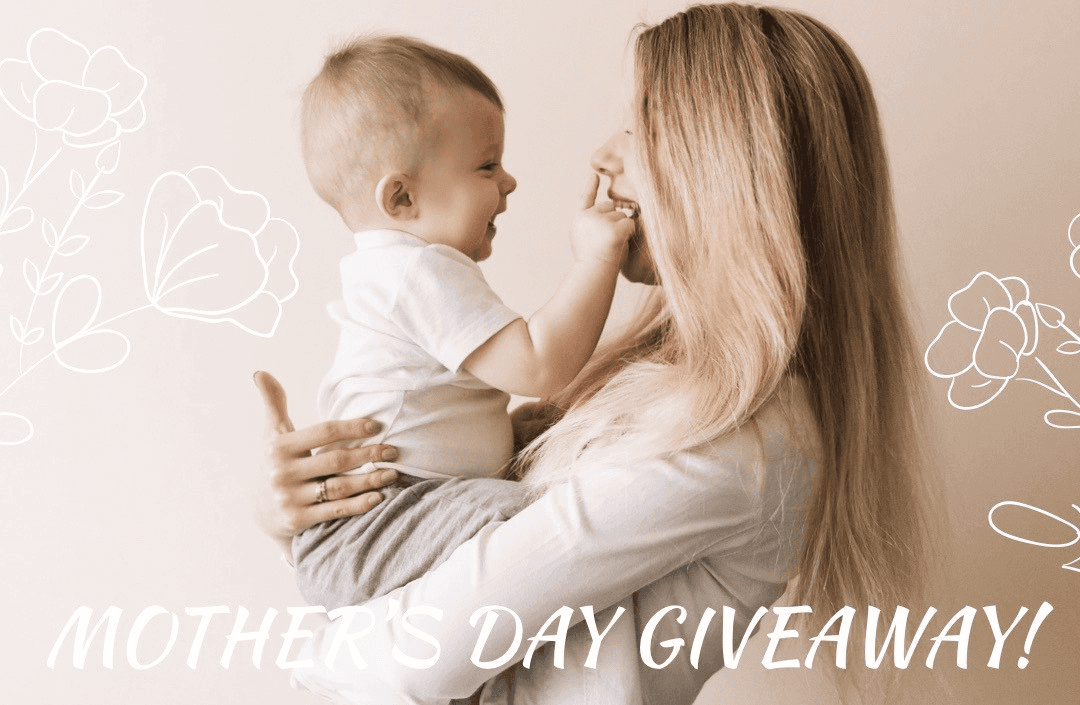 Competition Terms and Conditions
To enter, during the Promotion Period, participants must tag a mum they know who will be the desired recipient of the prize and in the comments on Plantation Homes' "Mother's Day Competition" Instagram post, telling us in a few words why their chosen mum deserves a little extra spoiling. Employees of Plantation Homes are unable to enter. This competition is in no way sponsored, endorsed, administered by or associated with Instagram. Open to Australian residents only. Desired recipient of the prize must reside within a 30km radius of Brisbane CBD. Plantation Homes will be giving away 1 x High Tea pack from The Wandering Italian and 1 x Plantation Homes gift pack. Total prize value is $300 RRP. Competition is open from midday Tuesday 28 April to Thursday 7 May at midnight AEST (Promotion Period). No entry limits and no age restrictions apply. Winner selected based on judge's view of most deserving entry and announced Friday 8 May by 11am. Judge's decision is final and no correspondence will be entered into. Prize cannot be transferred or redeemed for cash. Prize will be delivered at no cost to the nominated recipient within 30km of Brisbane CBD, by Sunday 10 May, 2020. Winner and nominee advised by direct message via Instagram and posted on Plantation Homes website.