Master Bedroom Makeover Bliss
Master Bedroom Makeover Bliss
The master bedroom is, and will always be, your sanctuary from the day to day grind of work and chaos of family life. As you step into your master bedroom, a feeling of tranquility and serenity should envelop you. But with changing tastes and moods, your master bedroom always deserves a makeover – small tweaks and inclusions which will give your master a new level of freshness.
We spoke to Emily Stokes, Senior Interior Design Stylist, Plantation Design Studio, to talk us through some tips in giving your master bedroom a makeover with a difference.
Style with your senses
A change of colour, especially on the bed, coupled with using different textures is a great start in transforming your master.
"Emerald greens, and pastel blues mixed with fresh neutrals such as greys and whites create a relaxed oasis for the master Bedroom," Emily adds.
"Rich earthy hues mixed with natural textures of timber or rattan also go hand in hand with this colour palette to add warmth."
"Adding candles or other organic fragrances is another way in adding another sensory lure to the master bedroom. Vanilla or lavender candles exude a relaxing fragrance – but don't ever leave a burning candle unattended."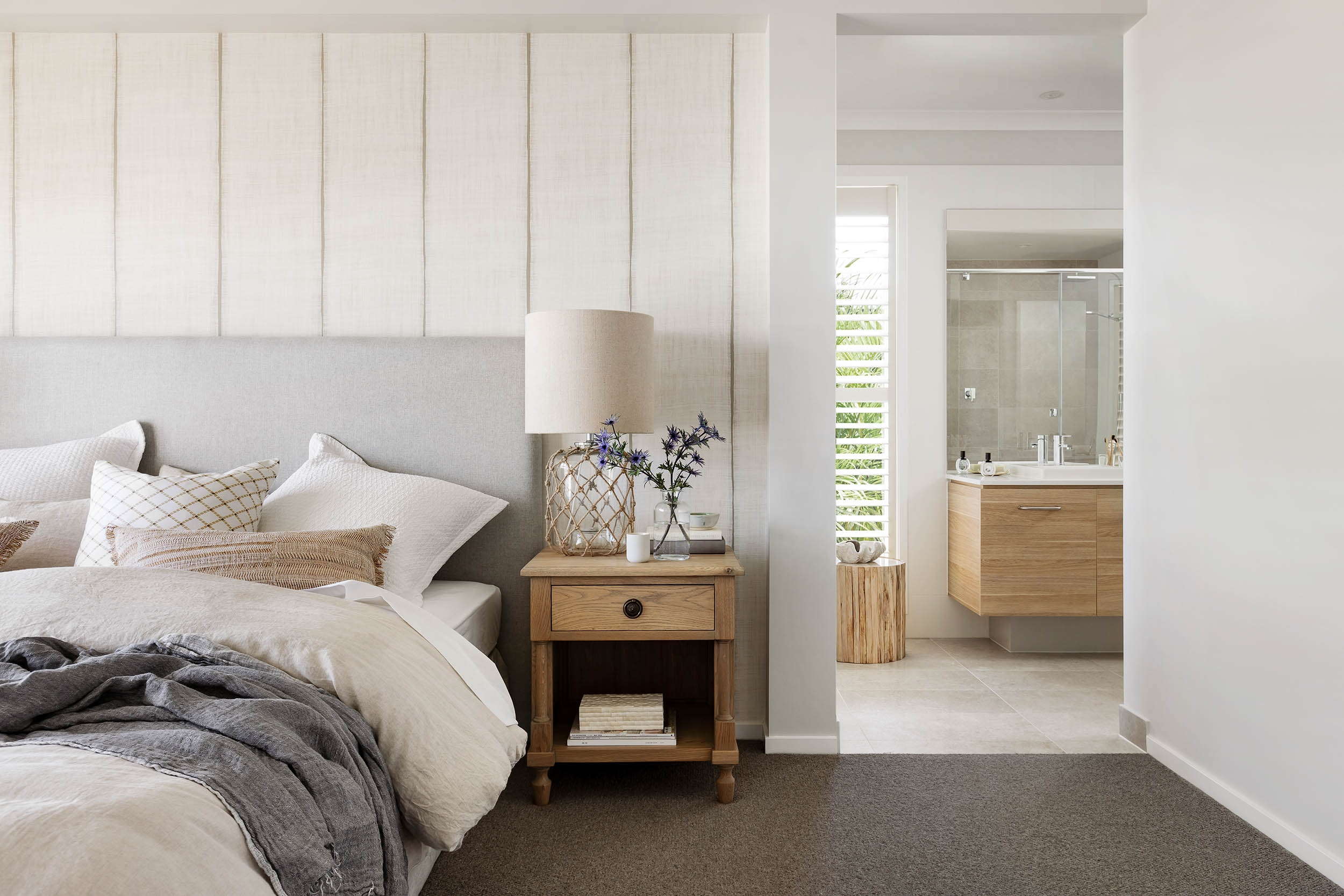 Adding candles and florals are a low-cost way to add a sensory allure to the master bedroom.
A place to unwind
As master bedrooms are usually larger in size, there is always a nook which can be ideally set up as a reading area. Emily says, "An oversized, opulent occasional chair in a bold color, complete with a side table and lovely lighting, will immediately be a drawcard for you every night before you head off to sleep."
"Mix and match soft fabrics and furnishing by adding cushions to the occasional chair or draping a throw rug to create textural contrast.
"The softness of hand loomed throw compliments an upholstered occasional chair in a contrasting colour or fabric.
"Perhaps consider investing in a stool to lift your tight feet, after a hectic day. And a small plant for a pop of green."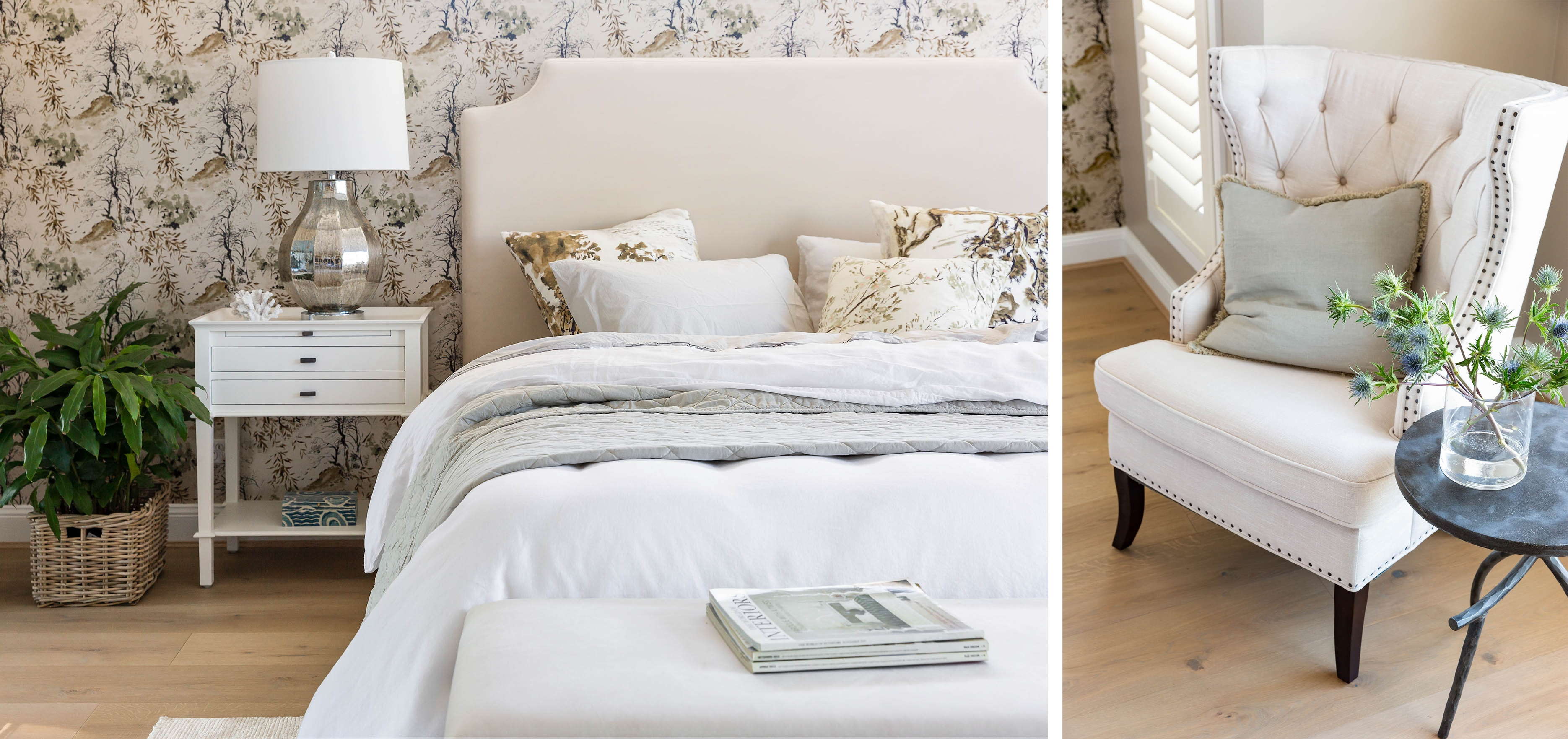 A space to relax and unwind. Visit our Hamptons-inspired Colorado design on display now at Bridgeman Downs.
Personal touches
From a piece of stunning artwork to a collage of black and white family photographs, personalising the space is also important.
"It could be a favourite memento from your recent getaway, or a collection of shells or rocks from your beach weekend, these pieces, can be wonderful pieces to display." Emily says.
"Ideally night standards can be placed at each side of the bedhead, accompanied with lamps to create warm ambient lighting.
"A dresser can be placed adjacent to the bed for displaying accessories and accent pieces such as candles, picture frames or trinkets."
Personalise your space with lamps on trinkets to make a unique statement.
Get cozy
Nothing equates luxury than having crisp high thread sheets with a quilt cover which is soft and luxurious to the touch.
"If you can, invest in good quality manchester. The quality of your sleep will improve by being super cool in the Queensland humidity and comfortable," Emily says.
"Layer textured cushions and throw rugs in soft neutral fabrics to create the feeling of comfort and tranquility in the bedroom.
"Seagrass wallpaper can be featured to bedroom niche to soften the space and create textural contrast from surrounding painted walls."
The master bedroom really needs to be as functional as it is beautiful, and with a few personal touches, slumber perfection awaits you!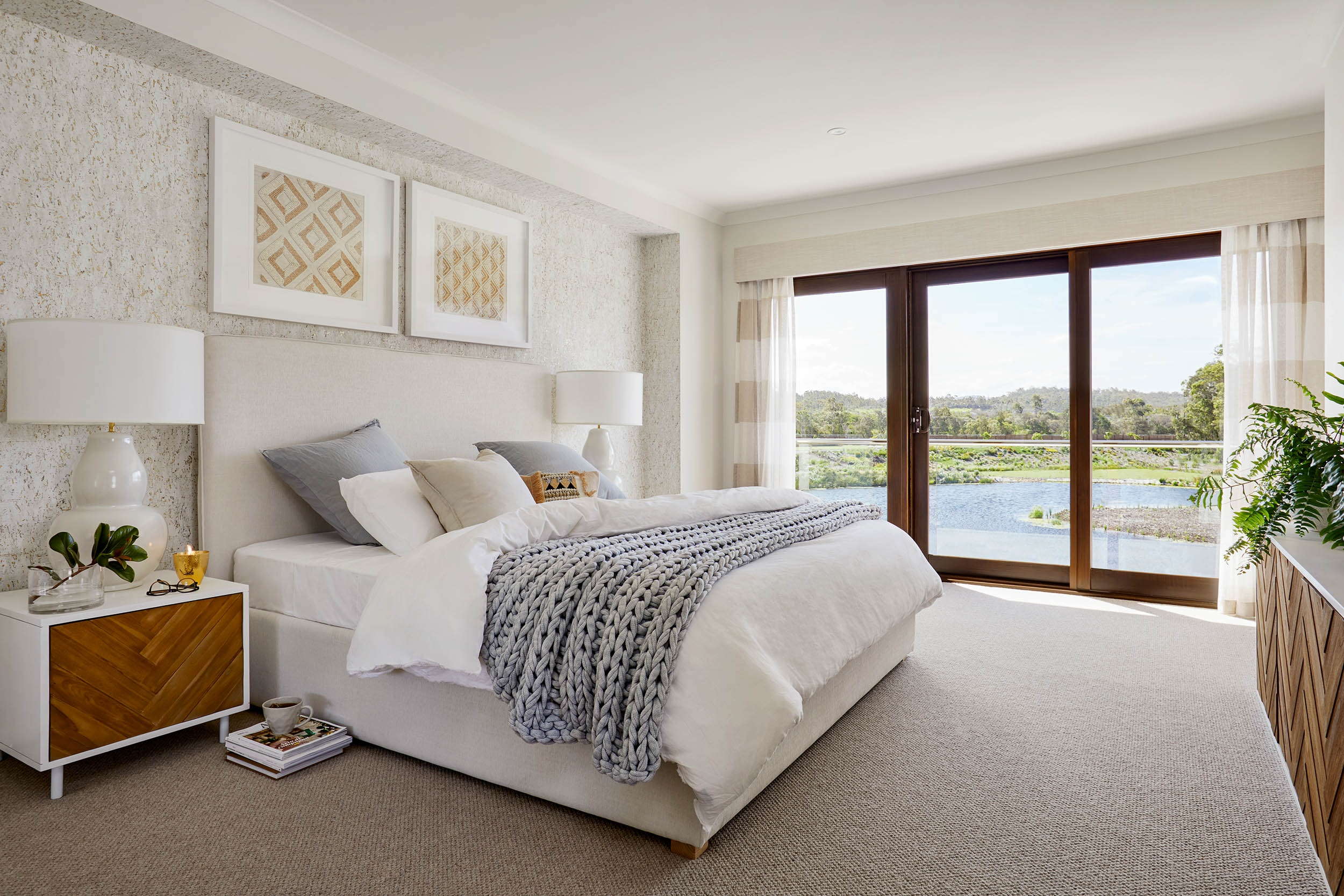 Layered textured throws exude comfort and style in our emperor at World of Homes at The Surrounds, Helensvale.