Warm up your home this winter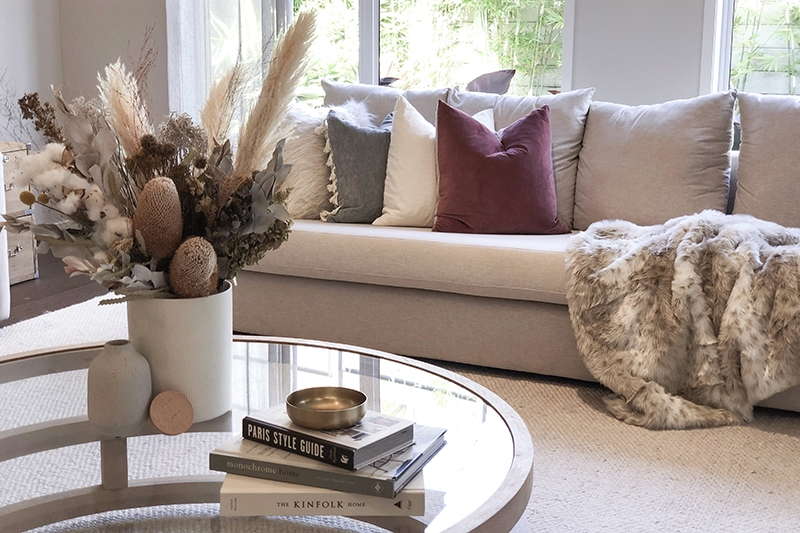 With winter firmly upon us, there is no better way to shake the cold blues away than by adding some warm and personal touches to your living room.
Plantation Homes recently asked interior stylist extraordinaire, Liz Amaya, to put her Midas touch on the stunning European's living room at Springfield Rise World of Homes in Spring Mountain.
Liz has masterfully created her own winter wonderland in the living room which can be achieved by selecting pieces which exude comfort and relaxation.
Tranquil vibes
Nothing says coziness better in a living room than to incorporate a mixture of warm textures and layers with the couch and to use soft furnishings to amp up the inviting welcome.
"The living room couch can be decked out in a suite of cushions in a variety of textures and materials to create layers of warmth and comfort. I chose neutral tones and with a splash of burgundy and navy blue which are rich and deep colours, paired with a luscious faux leopard throw and duck blue linen throw. The end result is a couch you want to jump into and spend endless hours lounging around in." Liz said.
"The winter season lures you to the indoors so it is important for you to feel comfy and welcoming in the living room. I have added tones of cream, taupes and browns to lift that warm palette to another level."
Coffee table showstoppers
A coffee table can be home to so many stunning winter-inspired pieces which can be easily swapped and changed, depending on your mood.
"For the coffee table featured in the European, I selected a jaw-dropping array of Australian natives, displayed in an oversized vase, a selection of eclectic books and a beautiful scented candle. It is important to captivate all the senses when you style for a new season." Liz adds.
"And with winter, a hot, aromatic coffee and a cheese platter sets the scene to a perfect evening ahead at home."
Finishing touches
It may be cold and outside, but greenery in a living room is perfect for that added pop of colour.
"I have also included some personal artefacts such as photographs and ornate vases on the shelving to complement the colours featured in the larger pieces."
If you have any tips on how to elevate your living room to a warm winter haven, we would love to hear from you!