Your new kitchen isn't complete without a Butler's Pantry.
A Butler's Pantry (or walk in pantry) is the must have of any modern kitchen for those with the luxury of space. The primary purpose of a Butler's Pantry is to provide space to prepare food and clean up without cluttering up your main kitchen. Essentially a small kitchen within your kitchen, they are hidden out of sight behind a wall or door, but still give you easy access to everything. They also provide lots of storage for groceries, serving ware and any counter top appliances you may not wish to have in your main kitchen.
Size will vary depending on your home, a double storey home with five bedrooms will allow for a larger Butler's Pantry than a single storey three bedroom home. Their layouts can be as simple as having some shelves and bench space, all the way to having a second sink, dishwasher and walls full of storage. Shelves rather than cupboards maximise storage space in your butler's pantry, increasing its functionality and practicality. And don't think your butler's pantry can only be functional – add personality with different coloured accessories including cookbooks, vases, bowls, platters, containers and glassware.
All Plantation Homes designs include a Butler's Pantry. You can view them all here.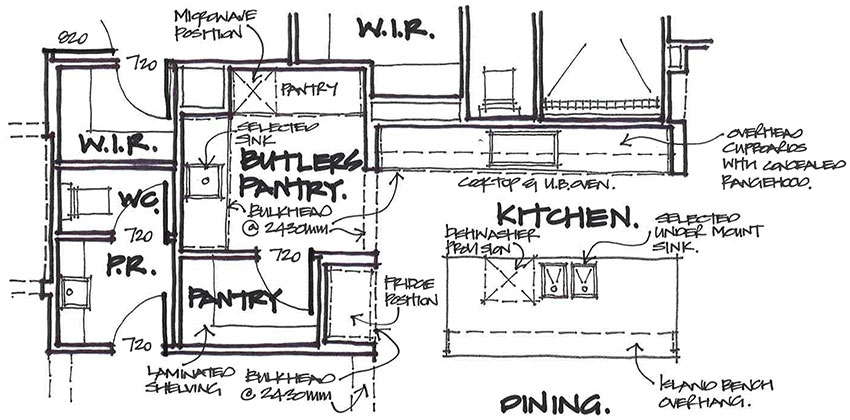 Styling Your Butler's Pantry
Just because your guests can't see it, there is no reason to have a boring Butler's Pantry.
Our design team has written a blog to help you style your Butler's Pantry. You can read it here.