Spruce up your home this Spring
Spring has certainly sprung in the South East, with higher temperatures thawing out our winter blues. With the start of the new season, it's time to start redirecting our energy to our home, giving it some well-deserved TLC to spring it back to life.
Wendy Marples, Interior Design Stylist, Plantation Homes, has shared her top tips in giving your home a fast-track spring blitz.
Play with your style
It seems we are becoming more adventurous with design selections with reality TV shows giving us the confidence to experiment more in the style stakes. Queenslanders are taking components of various trends to create their own individual look and sense of style and not necessarily conforming to any particular 'look'. There's certainly a strong emphasis on detail - along with a hint of the unexpected.
"I am finding that we are now embracing imperfection in a big way - texture, texture and more texture is appearing for both hard surfaces and soft furnishings within the home and a perfect addition to your spring style." Wendy said.
"Clients are looking for a palette that is visually inspiring in its own right as well as being able to be tweaked for the different seasons. This spring, we are seeing velvet, faux fur, leather and linen in soft furnishings. In hard surfaces, we are seeing an array of imperfect shaped tiles, weathered timber and matt finish laminates.
You can mix and match your textures to create a unique, relaxed look or add some metallics for a more luxe look. By layering textured items, you can add a whole other dimension to your space and it makes it easy to change up some of those decorative items for the change of season."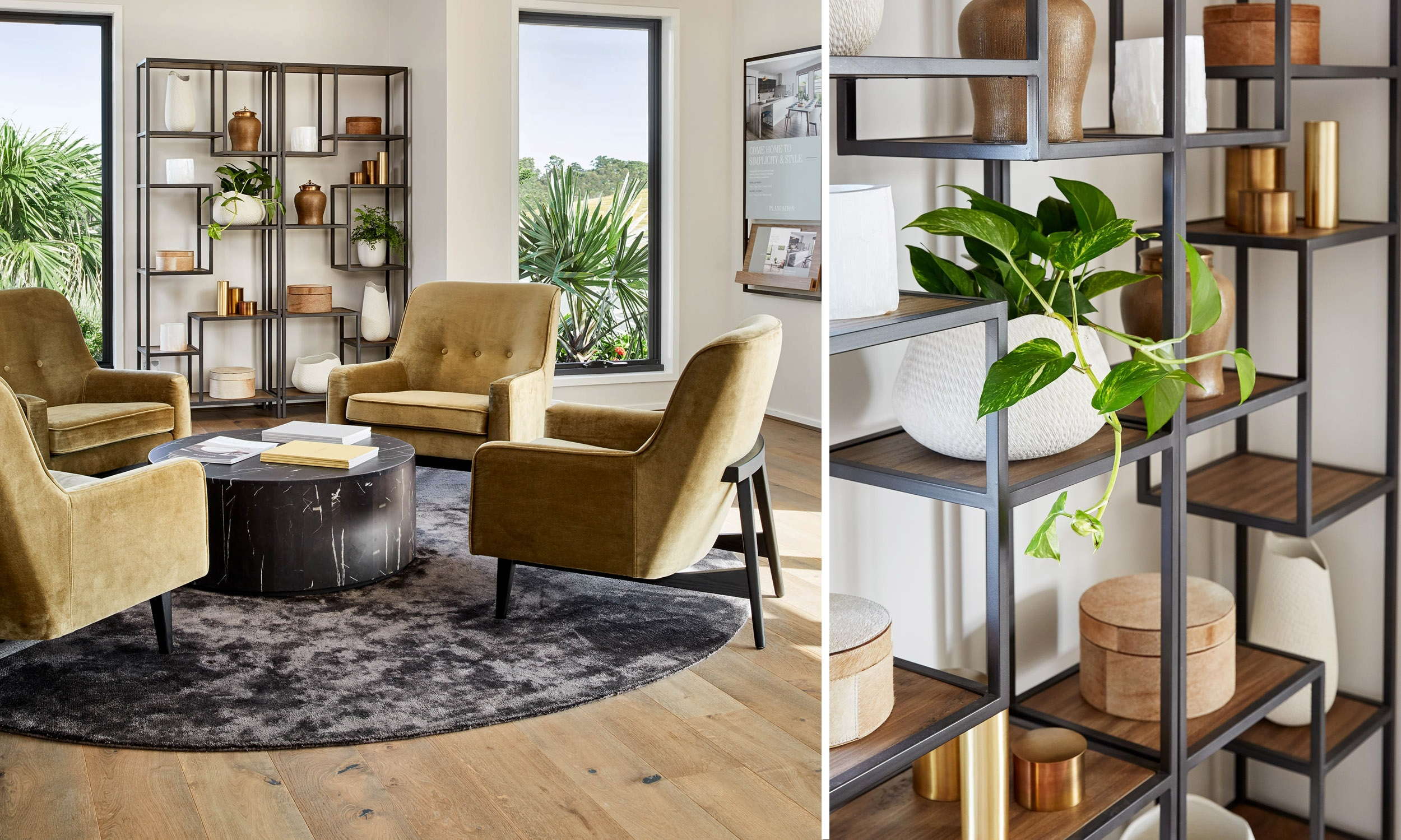 Velvet and metallics create a luxe look when complemented by greenery and warm timbers. See this look at World of Homes experience centre, Helensvale.
Freshen it up a little
"It might sound obvious, but a spring clean is a great place to start. Pack away all the heavy-knitted throws and replace them with lighter weight crisp cotton ones, scatter a few colourful cushions around and pare back some of the clutter," Wendy adds.
"Make way for some indoor greenery (which is continuing to be a huge trend) and there's plenty of the 'pretend' variety if you aren't blessed with a green thumb. Plants can add colour, shape and texture just as much as cushions, rugs and throws.
"What about changing out some of your artwork? Greenery can easily be introduced here too. Or if you have some floating shelves, they are a great place to display ever-changing vignettes chosen just for the season or even a specific occasion. Maybe roll away that heavy plush floor rug (which was great for cold/lazy Sunday's by the TV) and replace it with something livelier and welcoming for the new season.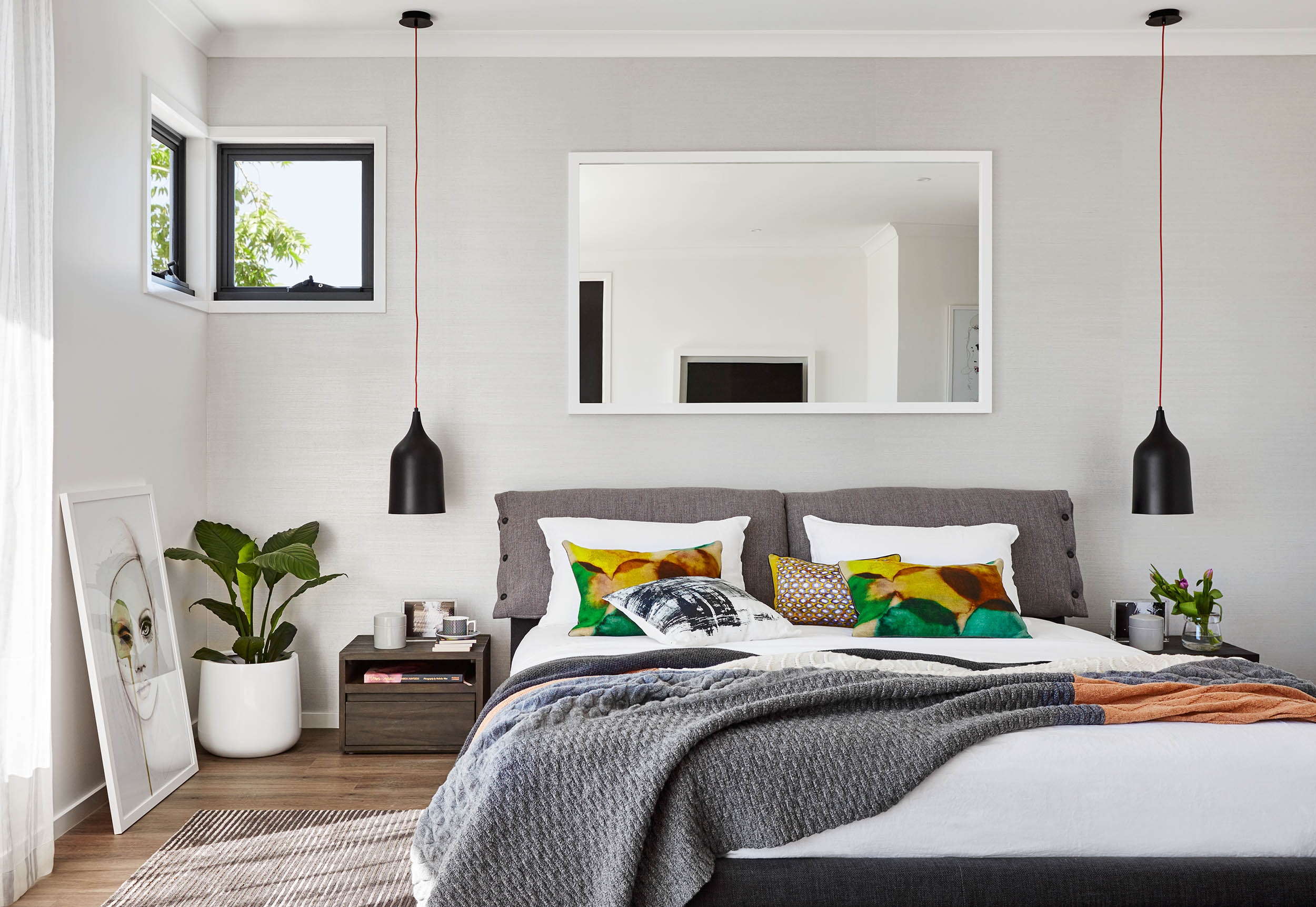 Make way for indoor greenery, coloured cushions and artwork, a feature in our Breeze Collection.
"You can really inject your personality in to the space with decorative items. You could introduce some new placements or table runner, or maybe leave your favourite cookbook open to the pages with lovely fresh spring/summer salad ideas. Items that can be both useful and nice to look at are often easy to replace with the change of seasons.
"Whatever your taste though, nothing livens up a space like an invitation of colour. Just go for what makes you happy by injecting some of your own personality and embrace the fact that 'spring has sprung!"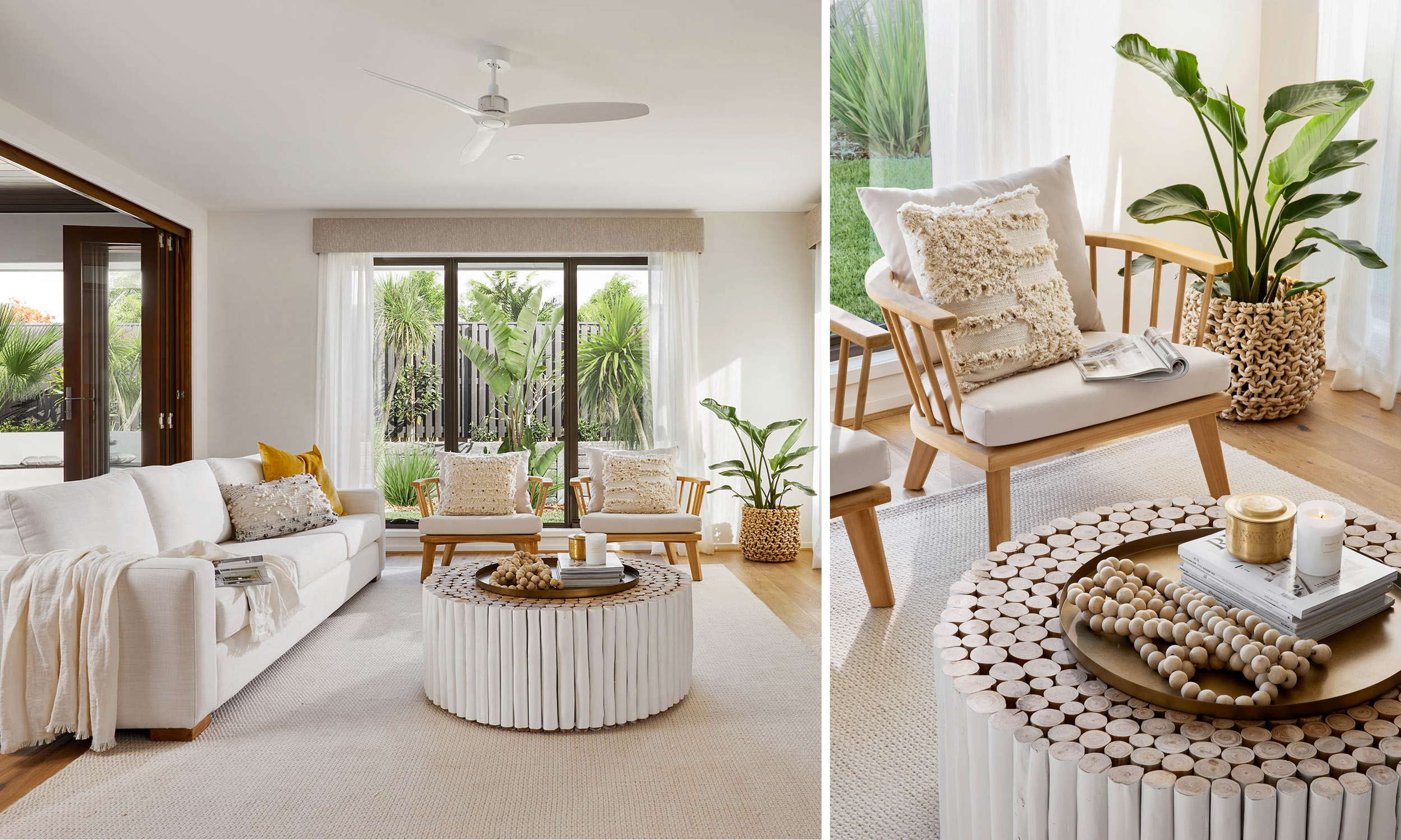 Inject personality in to your space with pops of colour, decorative items and books – as seen in our ever-popular Brighton on display at World of Homes, Helensvale.
Kitchen and bathroom touches
It doesn't matter whether your taste is classic or contemporary, the textural trend mixed with an emphasis on natural more imperfect products and finishes is huge at moment and is definitely a great place to start this season. It's quite a versatile trend that can be used to achieve both an opulent, luxurious look but equally at home in a more relaxed and laidback feel.
Take tiles for example. There's some exquisite feature tiles available that can be introduced to kitchen splashbacks such as the splashback featured in the Carmelle kitchen in Springfield Rise or featured in bathrooms to create either of these looks. Pair them with dark grout and it can really make a space pop. You could also replace a colour-backed glass splashback with natural finish large format tile.
"This spring, matt black and metallics are still on-trend with anything from gun metal, copper and gold to nickel and brass – and not just for your handles and tapware. If you're not sure about committing fully to this trend, what about introducing other subtle elements to incorporate a metallic finish on items such as mirrors or accessories. It's very easy to include luxury and sophistication into your kitchen or bathroom with metallics. Another trend that seems to be taking off is oversized round and elongated wooden knobs – try them for a bit of fun!" Wendy said.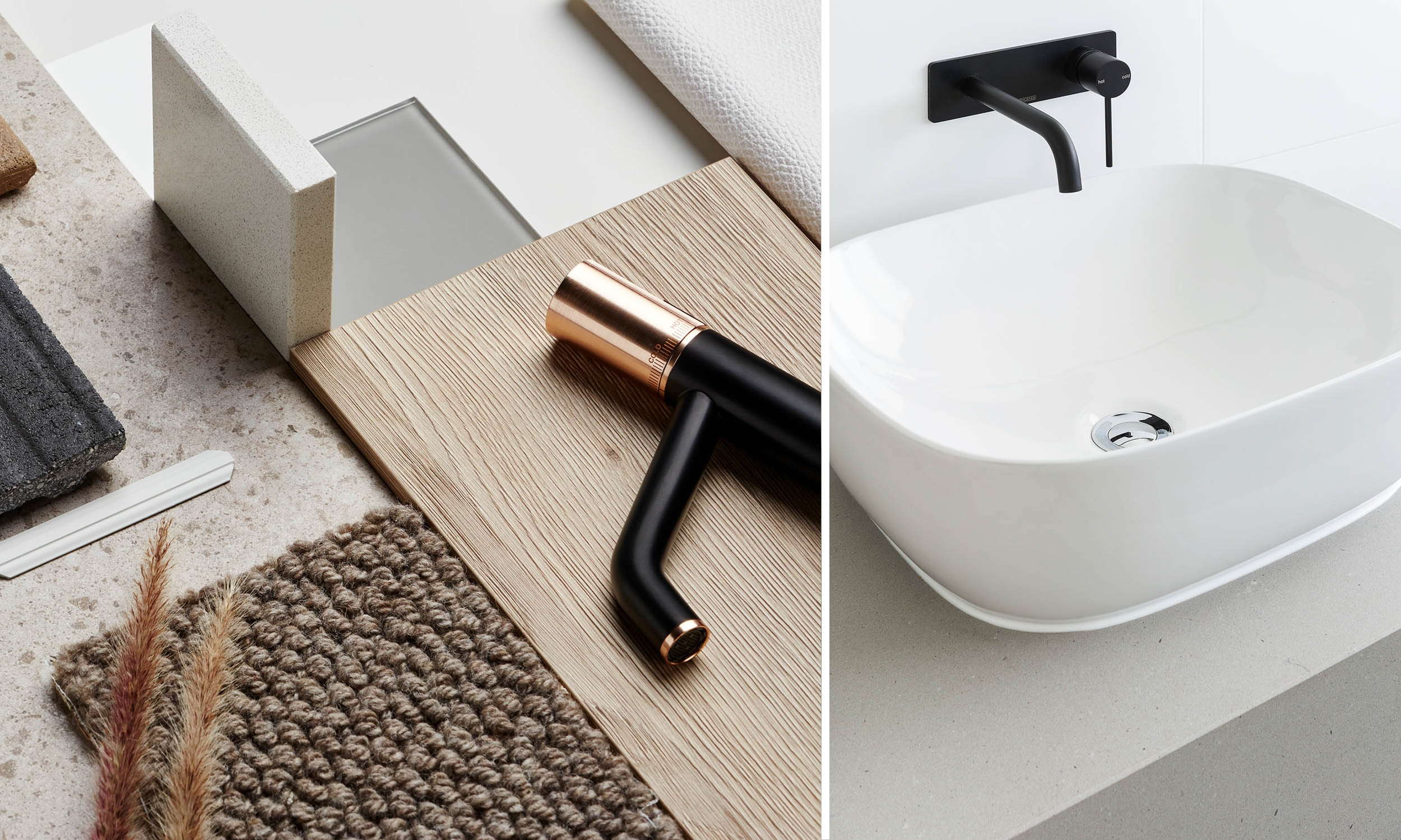 Matt black tapware and metallic finishes are still heavily on trend.
"Combinations of both thin and thick and dual materials like stone and timber are being celebrated this spring and can be seen on bench tops. Combining different tones and textures keeps everything balanced, adds visual interest and all helps to make the space feel more natural and organic.
"White kitchens are always a favourite as they are easy to personalise and adapt to different styles – from a contemporary high gloss sleek finish through to a more traditional look, perhaps a Hamptons style with a shaker profile in a satin finish. More recently, the combination of white, black and textured woodgrains are increasingly popular. Timber laminates have become progressively more realistic and given that they are a more cost-effective option, they are a popular choice which can be seen in our kitchens and bathroom vanities.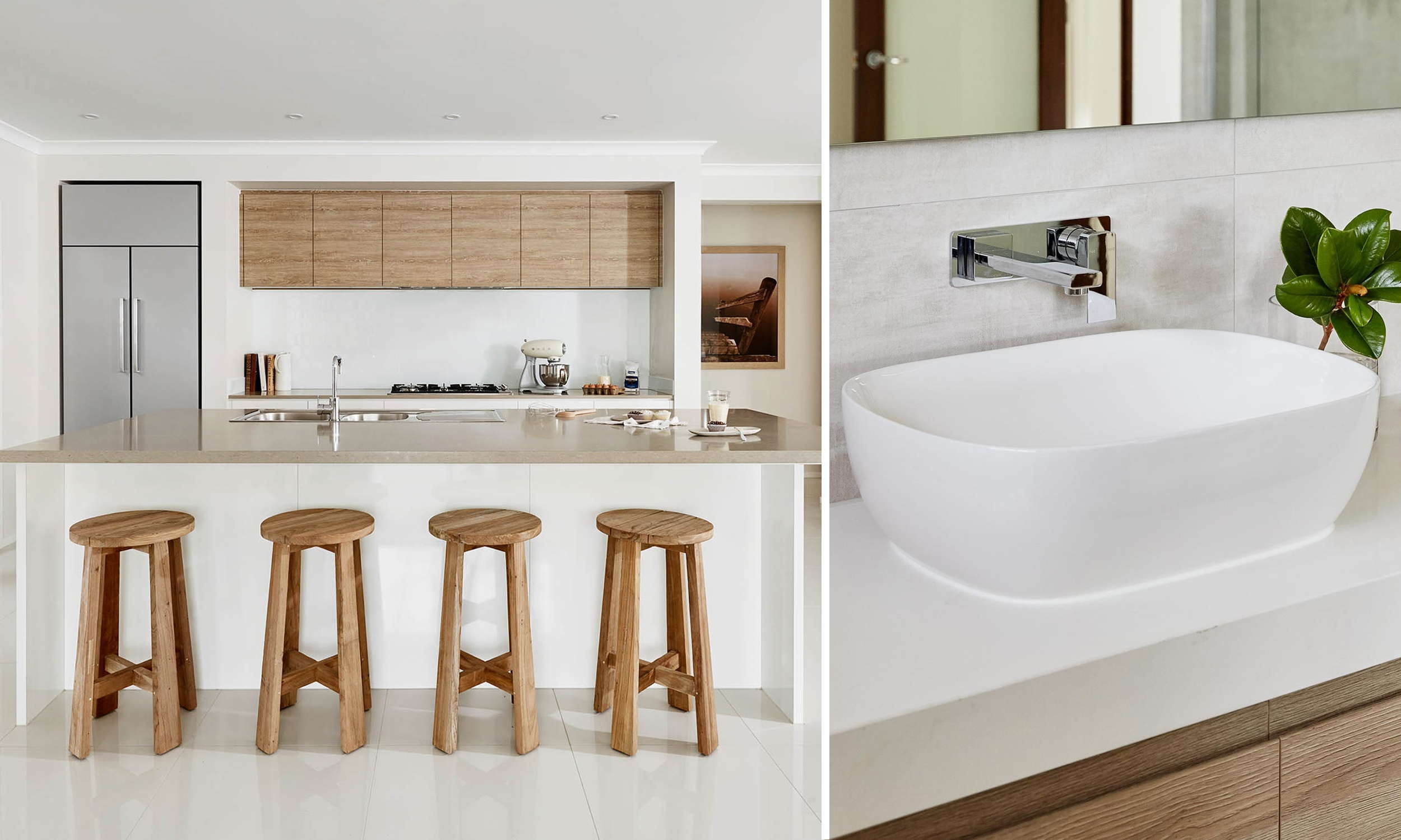 Classic white kitchens and bathrooms will always be a favourite, but we are seeing a trend towards adding textured woodgrains to offset white.
Finish the look with wallpaper
Think textured finishes, botanicals, florals, metallics and geometrics – think whatever you can and you'll find it in a fresh new approach for this spring season and beyond. Not only are wallpaper's visually pleasing but they are also very tactile – grass cloth, silk, plaster effects, faux wood and so much more.
"Wallpaper can bring the outside indoors or make your home feel incredibly luxurious. It can provide depth and interest and create the perfect backdrop for any home." Wendy said.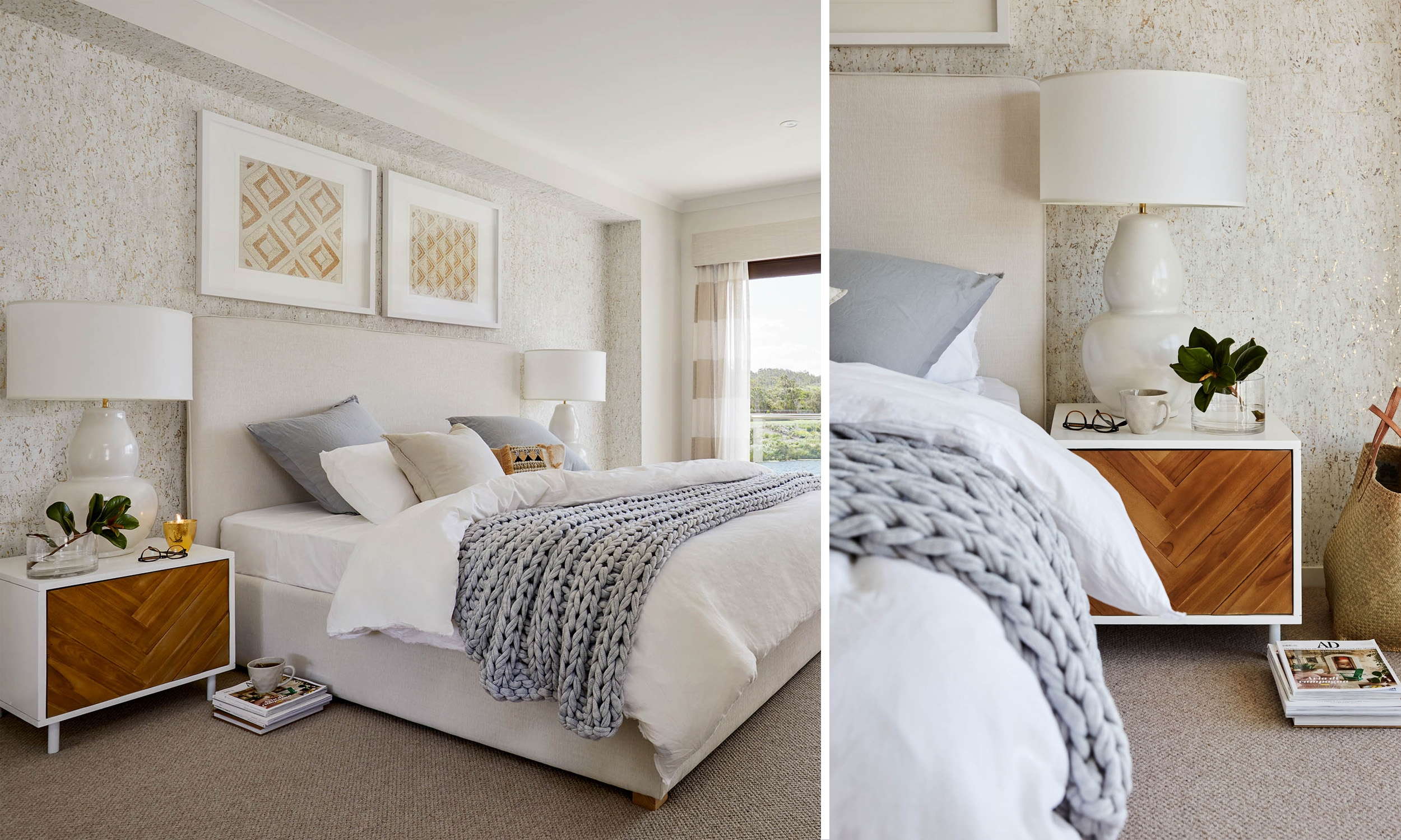 Luxe metallic wallpaper helping to bring the outdoors in, in our Vermont at World of Homes, Helensvale.
Get inspired
Experience 15 display homes in the flesh by visiting our World of Homes at two premium South East Queensland locations at The Surrounds, Helensvale and Springfield Rise, Spring Mountain and get some spring inspiration today!
What spring pick-me-up are you going to try out with your abode?