Celebrating Queensland's great outdoors in style
Outdoor living and entertaining are significant ingredients in how Queenslanders live and love their family home. With Spring in full swing, back doors are being swung open to let the outside in, creating the perfect opportunity to celebrate the extended living spaces in the Queensland back yard.
Awesome alfresco
Having an integrated, undercover alfresco ticks all the boxes when it comes to entertaining outside. The alfresco area is the hub of your outdoor living space, that provides relaxing seating and entertainment zones and should ideally be able to accommodate a lounge, dining set and even house the family BBQ. You may consider an array of potted plants and palms in your alfresco area to flow through with the rest of the backyard, making it beautiful and inviting.
Lou Meidanis, Plantation Homes New Home Consultant, said, "The perfect alfresco must be strategically located from the living or kitchen to accentuate the indoor/outdoor living flow that is perfect for Queensland whilst being functional to suit your family's needs."
"The Queensland climate is perfect for the indoor/outdoor living which an alfresco area provides, and it is an absolute must-have for our clients."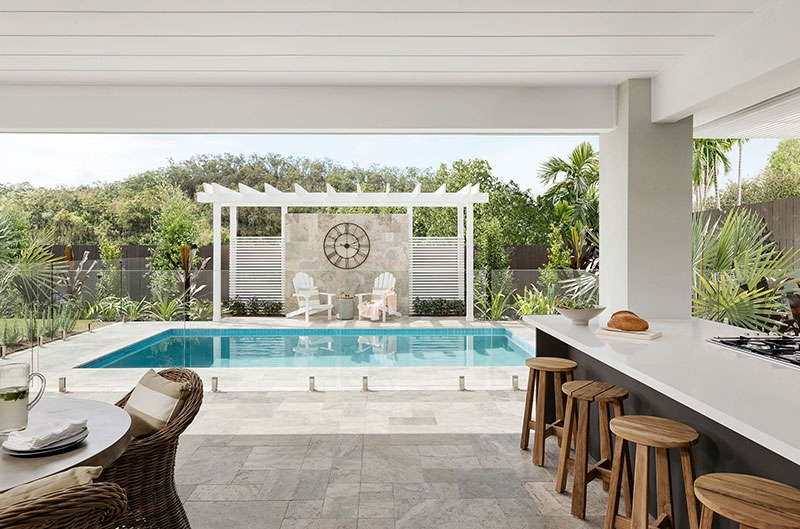 The 'perfect alfresco', now on display now in the Trinity located at Springfield Rise World of Homes display.
Don't be shy with colour and lighting
In prelude to summer, pops of colour in soft furnishings including cushions, are another must.
Spring colours are hot on trend include tangerines, yellows through to deep pinks, emerald greens and ocean blues. Be experimental with natural textures and mix it up with timbers or wickers with your furniture.
Lighting is a perfect way to inject the relaxing atmosphere and mood for the outdoor space. LED lights which you can dim as well as up/down vertical lighting can set the mood for evening entertaining. Some additional lights to spotlight the garden finishes the look perfectly.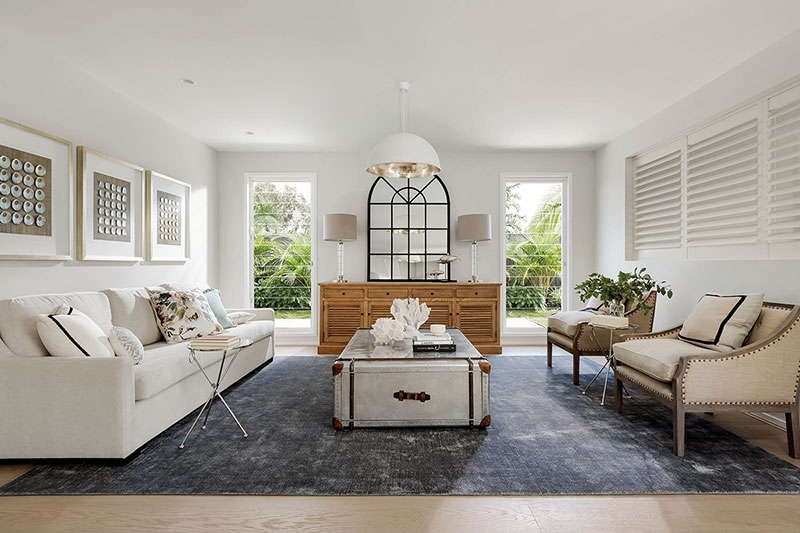 Include soft furnishings such as cushions with natural textures and mix up timbers and lighting to inject a relaxing feel in your space.
Trinity on display now at Springfield Rise.
Outdoors in any kind of weather
With Spring, comes sunshine and possibly some unexpected rain, but that should not deter you from spending time outside. Choose furniture which can withstand the elements but stick to pieces which boast a more relaxed style compared to your furniture inside.
The alfresco should be able to accommodate a good size table or sofas for entertaining with space to walk around comfortably. Stacker doors are great as they do not encroach into the alfresco area but keep that open space feeling at the same time.
Consider a ceiling fan for balmier evenings when you need relief and look at retractable awnings or shutters which can protect you from the wind and rain.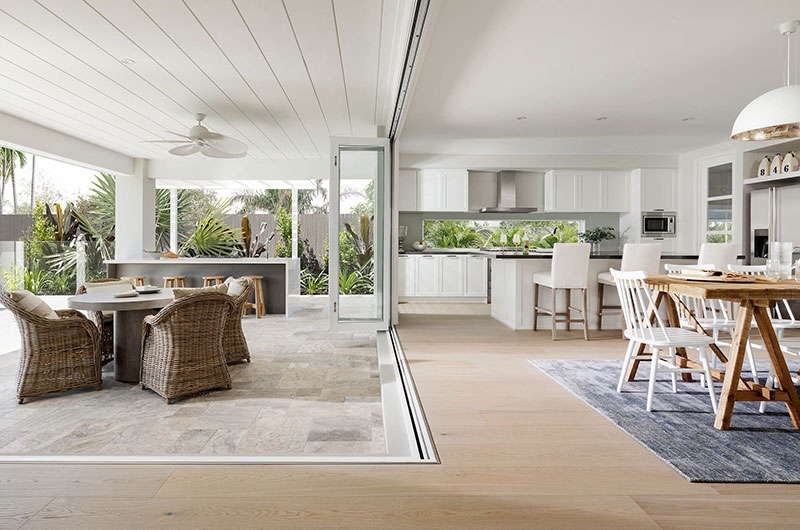 Consider a ceiling fan in your alfresco for balmier Queensland evenings as showcased on our Trinity on display now at Springfield Rise.
Get inspired
The Trinity by Plantation Homes at World of Homes Springfield Rise is a shining star when it comes celebrating coastal style design that maximises outdoor living. The Trinity is a symphony of Hamptons-style, coastal living, complete with a breezy alfresco area oozing charm and opulence.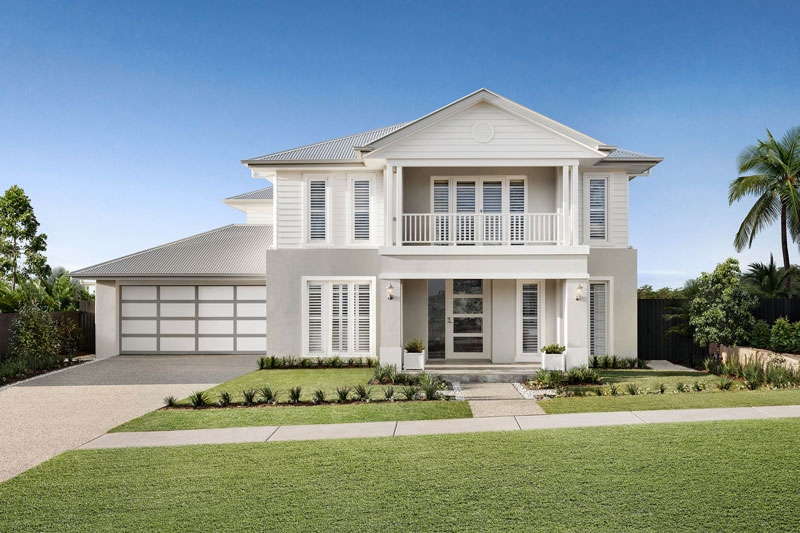 The stunning Hamptons-inspired Trinity with Eastport façade. On display now at Plantation Homes World of Homes at Springfield Rise.
Lou said, "The Trinity alfresco truly showcases how to combine indoor and outdoor living with the continuous flow and connectivity of the areas that it feels like a seamless extension of the indoor living areas."
Be inspired to create your ideal outdoor space today by experiencing our unique alfresco areas in the flesh by visiting our display homes located throughout South East Queensland.