Personal and Heartfelt Site Unveiling Celebrates the Start of House For Life 2019
It was sunshine and smiles all round for the touching launch of Plantation Homes' eighth House for Life charity home for The Mater Foundation on Friday 30th November.
Plantation Homes has joined forces with Villawood Properties to build the latest custom-built charity home, to be auctioned in September 2019 in support of seriously ill and premature babies through the Mater Little Miracles Foundation.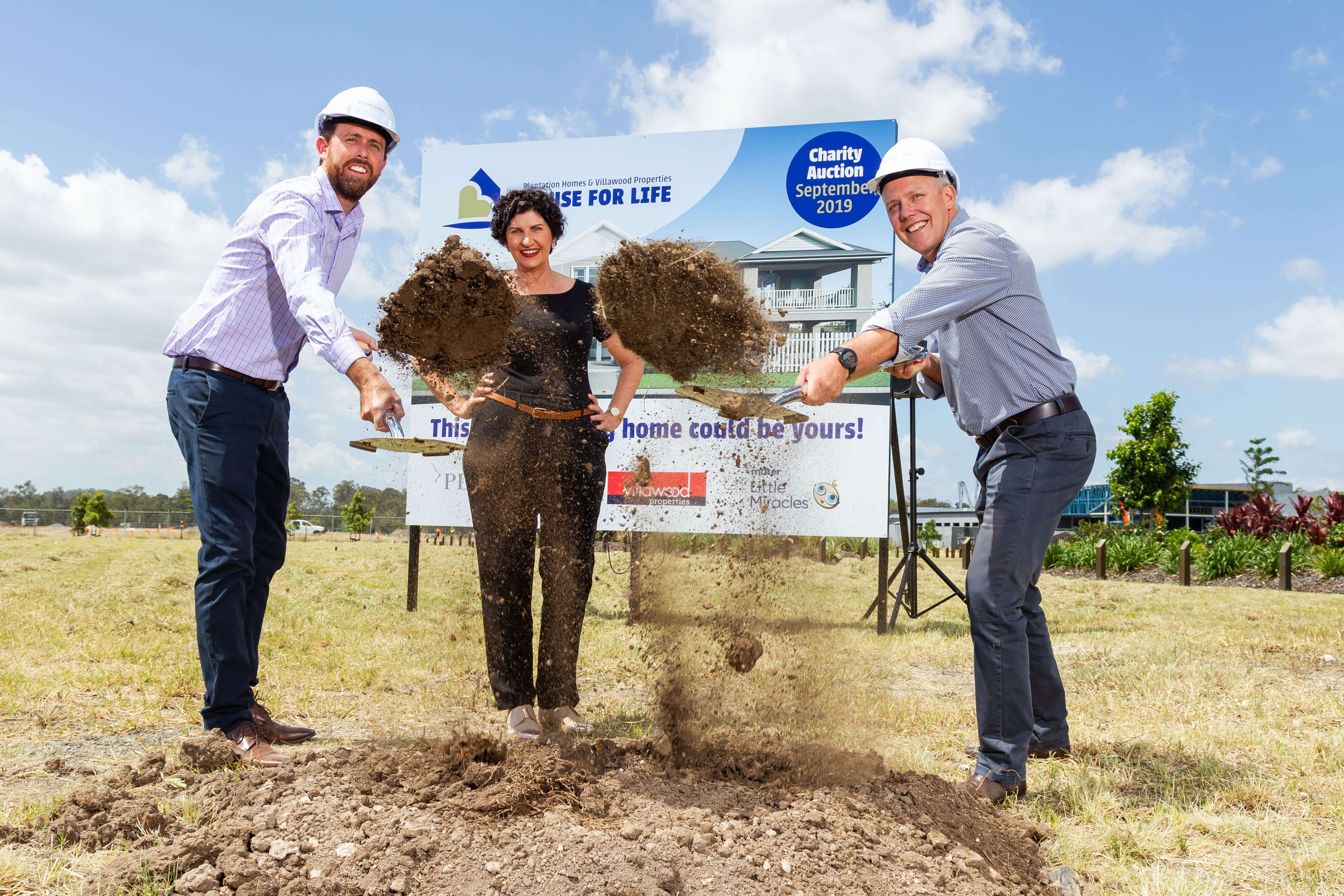 From left to right: Michael Williams, Lesley Ray, and Alex Raleigh
Guests of Honour
Helping to unveil the house site in The Surrounds, Helensvale, were gorgeous one-year old twins Keira and Kensley with parents Jodie and Shaun Spencer.
Jodie's pregnancy had its complications including pre-eclampsia and one of the twins having intrauterine growth restrictions.
At 31 weeks and 5 days, the twins were delivered by caesarean with Kyra weighing only 870 grams and Kensley was a healthier 1.6 kgs. They were then taken to Mater's Neonatal Critical Care Unit (NCCU) and from that day they only improved.
Having turned one in September, the twins are doing remarkably well and are reaching their developmental milestones.
"The care that we received at the Mater was wonderful and the doctors never gave up on Kyra. They always kept me informed, explaining all the medical jargon."
"They worked so hard to keep the pregnancy going and to establish the ideal time for delivery to give each of the girls the best possible chance," said mum Jodie Spencer.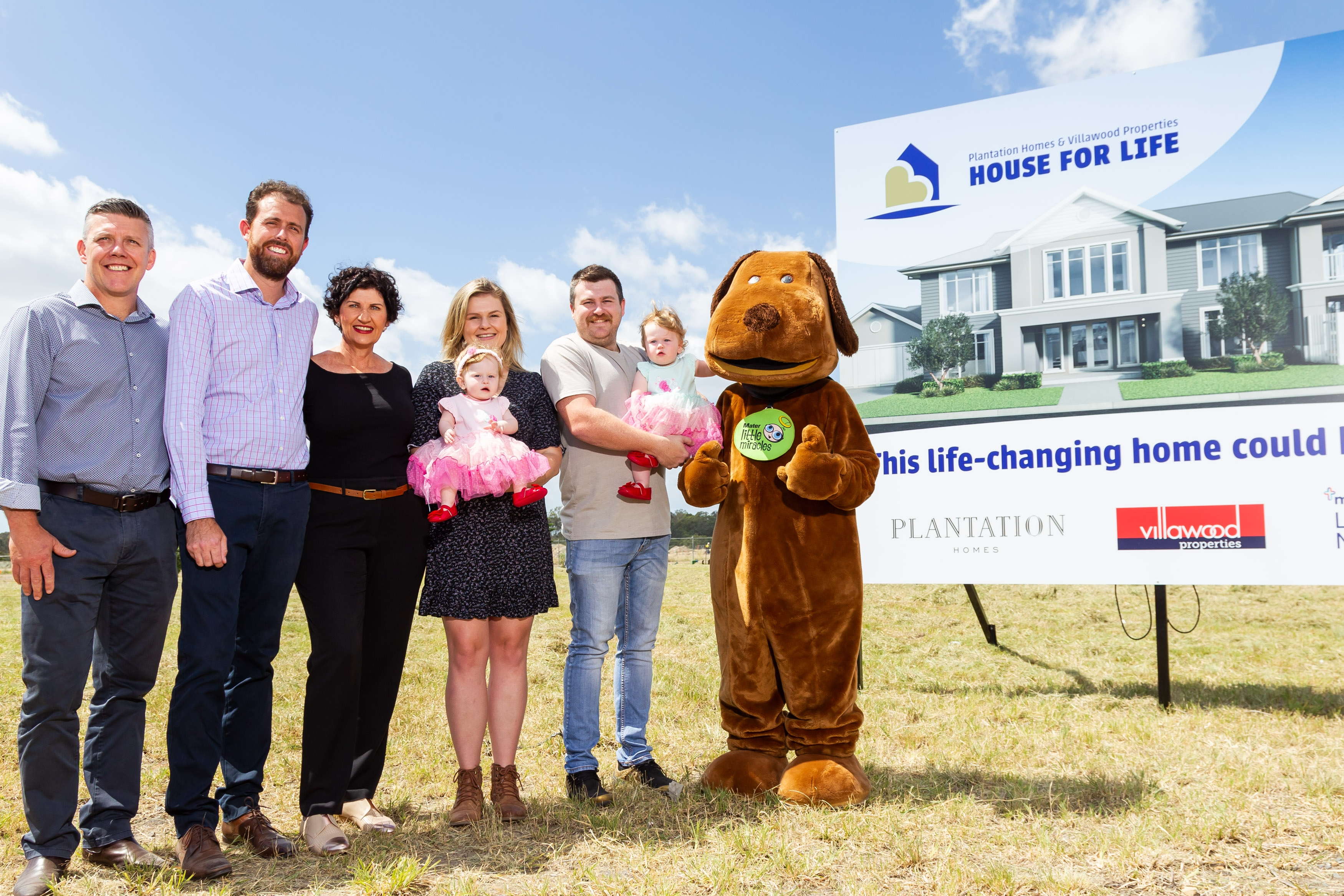 From left to right: Alex Raleigh, Michael Williams, Lesley Ray, Jodie Spencer, Kyra Spencer, Shaun Spencer, Kensley Spencer and Miracle Max
Building the Dream Home
The charity house is a Plantation Homes' custom-design build, which boasts four spacious bedrooms, 4.5 bathrooms and five generous living areas, and is an ideal family home situated in the picturesque Villawood community of The Surrounds at Helensvale at the Gold Coast. Featuring Hamptons-inspired architectural detailing and interiors, it boasts uninterrupted park views, and incorporates open-plan living areas with gourmet kitchen and is appointed with Caesarstone™ bench tops and quality SMEG™ stainless steel appliances. Register your interest to stay tuned on the September 2019 auction updates.
Lights, Cameras, Action
It was great to see Queensland media covering the unveiling, including news crews from Channel Seven and Nine Network. Alex Raleigh from Plantation Homes, Lesley Ray from the Mater Foundation and Michael Williams from Villawood Properties were all also on hand to share the story of how these organisations join together to create something special. There were also a group of the tradespeople and suppliers on hand to talk about how they donate their time and resources to make the build possible.
Stay up-to-date with the Build
For the latest news and pictures from the House of Life build, head to www.houseforlife.com.au and mark September 2019 in your diary for the opportunity to bid on the beautiful and spacious family home that will help other families in need.